February 2016
Pennsylvania
AgrAbility for Pennsylvanians (AgrAbility PA) teamed up with Penn State Ag Safety, the Amish Safety Committee, the PA Office of Rural Health, and the New York Center for Ag Medicine, at the 2016 Keystone Farm Show. The event was held in York, Pennsylvania, January 5-7. The show hosts over 350 agricultural exhibitors and draws production farmers and agricultural workers from surrounding states.
Staff encouraged farm show attendees to 'follow the path to safe farming' as they provided information and activities from each organization. Activities included a farm hazard hunt, a corn picker entanglement simulator, Mr. Lifty, and Robo Handles. Several new contacts were made and the AgrAbility for Pennsylvanians' case coordinator will be following up with farm assessments later this month.
---
AgrAbility PA partnered with PA's Department of Agriculture at the 100th annual Pennsylvania Farm Show in Harrisburg on Jan. 14 for Veterans and Active Military Day. A number of organizations were present, including the U.S. Department of Veterans Affairs, PA Department of Military and Veterans Affairs, PA Office of Vocational Rehabilitation, PA Veterans and Warriors to Agriculture, and others. The day-long event focused on sharing information and resources, networking among organizations that support members of the military, and educational presentations at the Ag-Food Career Stage that focused on employing and advancing those with military service backgrounds. The event saw hundreds of people throughout the day.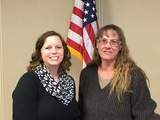 A keynote panel presentation that day, moderated by PA's Secretary of Agriculture Russell Redding, featured several individuals with military service backgrounds who now work in the agricultural industry. An AgrAbility PA client, Cathie Dibert of Green "er" Acres Farm in Claysburg, spoke about her military experience and how she transitioned into farming. She publicly thanked AgrAbility PA for their support in obtaining accommodative equipment to use around the farm. Cathie also attended last year's AgrAbility National Training Workshop in New York. AgrAbility PA staff member Kendra Martin (left in photo) greeted Cathie after the presentation.
Submitted by Abbie Spackman