February 2016
Tennessee
Staff attended Progressive Safety Day training in Bowling Green, KY, to coordinate and host future safety days in 2016. There were wonderful resources and great training from the largest rural safety and health education program for children in North America. Progressive Agriculture Foundation was interested in learning more about Amber Wolfe's "Creak, Crack, Moan and Groan: Farm Kids Get Arthritis" and in possibly adding it to their educational resources.
---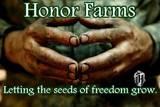 TN AgrAbility is excited to share and wish a BIG Congratulation to Ralph "Malachias" Gaskin and his family for their new Honor 22 farm. Malachias Gaskin is the author of "A Warrior's Garden" (available now to buy on Amazon) who spoke about PTSD and farmer veterans at the TN AARH conference in August 2015. Their dream of owning a veteran farm became a reality in Columbia, TN, on January 29, 2016.
Here is an excerpt from Malachias: "My wife and I are looking to buy our first home ever using (my) VA benefits. It is our dream to have a farm where we can grow food for our own family local community and help out fellow veterans with work, food, or even a place to stay at times as needed. We have never been this close to owning our own home. Our farm will have a dedicated Veteran's area with 5x5 raised bed gardens for them to use to grow their own food. 100% free for them."

Thanks to a Go Fund Me page they have exceeded their goal of $3500 by $372 & raised the earnest money.
Malachias said "It is called Honor 22 Farm because every day 22 military veterans take their own life by their own hand and we are being blessed with purchasing a 22 acre farm that will partially be used to support our local military veterans/warfighters. God bless and spread the word!"
You can follow him on Facebook at www.honor22farms.com
Submitted by Joetta Turbeville White