February 2016
Wisconsin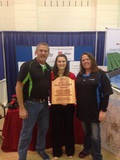 AgrAbility of Wisconsin received the Spirit of Bob Henry Award, presented by the Henry family, at the Midwest Farm Show in La Crosse, WI, on Wednesday, January 13. This award originated last year following the death of Bob, who, with the help of his brother, Bill, ran the LaCrosse shows for years.
Steve Henry, Bob's father, said, "Bob was a very special son to all of us. Loved life, loved people. It was Al Amyloidosis that claimed his strength after a three-year battle."
The Wisconsin program is honored to receive this award and wishes to thank the Henry family for their continuous support of the AgrAbility program.
---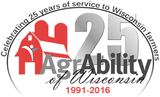 2016 marks 25 consecutive years of service to Wisconsin farmers for AgrAbility of Wisconsin! Beginning in 1991, the project has served nearly 3,000 farmers around the state. The success of the program can be attributed to the excellent staff at the University of Wisconsin-Madison and Easter Seals Wisconsin, as well as to strong partnerships with various agricultural organizations.
This time of celebration is also a time for reflection on these last 25 years. A farmer has been selected from each year of program existence, and their stories will be shared throughout the year, showcasing the changing technology and diversity among Wisconsin farms and types of assistance available to farmers.
Join in the 25 year celebration, and help share the stories of these hard-working farmers through websites, social media, and newsletters.
---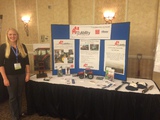 AgrAbility staff attended the Wisconsin Farmers Union Conference January 29-31. The Wisconsin Farmers Union is a member-driven organization committed to enhancing the quality of life for family farmers, rural communities, and all people, through educational opportunities, cooperative endeavors, and civic engagement. The conference brought in more than 250 farmers from around the state, and all were exposed to AgrAbility information at the conference tradeshow.
Submitted by Hannah Barthels