March 2016
Missouri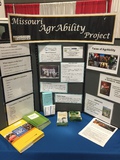 AgrAbility staff, in collaboration with the Brain Injury Association of Missouri (BIA-MO) and MO Division of Vocational Rehabilitation (MoDVR), displayed at the Western Farm Show. The Western Farm Show is a popular event that ran Friday, February 26 thru Sunday, February 28, at the American Royal Complex in Kansas City, MO. Now in its 55th year, the show featured over 500 exhibitors and more than 400,000 square feet of floor space, all under one roof. Exhibited was the latest farm and ranch equipment, farm structures, crop production products, ag services and much more among aisles and aisles of displays.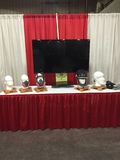 The Western Farm Show not only introduced farmers and ranchers to the industry's newest products and technologies, but also provided other attractions that are both fun and informative. For example, at the Health & Safety Roundup, AgrAbility featured hands-on interactive and educational health and safety exhibits that included rural and urban gardening, rural recreation, adapted farm tools, ergonomic garden tools for women, and mask protection. Friday, February 26, an estimated 3,000 FFA students from Missouri and Kansas learned about AgrAbility's health, safety, and wellness educational and career opportunities in agriculture to keep farming strong in the future.
---
Gabe Nicolazzi, health science intern with the Missouri AgrAbility Program and Brain Injury Association of Missouri, participated in the following activities.
Attended BIA-MO concussion program to learn more about concussion prevention, signs and symptoms and what the next steps are after a concussion occurs.

Prepared AgrAbility displays, teaching materials, educational materials, and resources for the Western Farm Show.

Secured 30- and 60-second donated public service announcement airtime for the March kickoff of Brain Injury Awareness month, Brain Injury Fact of the Day sponsored by the Missouri AgrAbility Project, and Cultivating Solutions for Farmers with Disabilities http://www.biamo.org/

Developed ergonomic, health, safety, respiratory, and wellness interactive and electronic AgrAbility displays.

Handed out AgrAbility and BIA-MO concussion materials during the Western Farm Show.
---
Physical Therapy (PT) students at the University of Missouri facilitated an older, senior farmer with chronic disease case study. PT students learned about the Missouri AgrAbility Program by viewing the AgrAbility video, MARRTC Farmers with Arthritis video, researching the NAP Toolbox for suggested assistive technologies, and determining eligibility requirements for the MO Division of Vocational Rehabilitation.

Submitted by Karen Funkenbusch
---
AgrAbility intern student Gabe Nicolazzi, reached out to numerous radio stations for PSA placements of 30-second spots for Brain Injury Fact of the Day. These free PSAs will complement the purchased 250 commercial spots across Missouri. Two on-air interviews have already been aired about March being Brain Injury Awareness Month. #NotAloneinBrainInjury.
---
Five regional seminars were held throughout Missouri for coaches and school personnel to learn about managing sports-related concussions and the impact the concussion may have for rural youth participating in sports. Missouri AgrAbility Project partner, Vocational Rehabilitation, hosted an information booth at each of the five seminars to share information about their services, including assistance available through AgrAbility.
Submitted by Maureen Cunningham