March 2016
Tennessee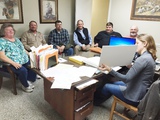 TN AgrAbility (TNAP) participated in the focus group for the ROPS Rebate Program. TNAP staff worked with Pam Tinc and Samantha Park with the Northeast Center for Occupational Health and Safety, a research and outreach organization that serves farmers, fishermen, and foresters throughout the Northeast. In addition, both are part of the National Tractor Safety Coalition, a partnership that was brought together by the Northeast Center, to work with farmers to reduce the number of tractor overturn fatalities across the United States. Pam and Samantha presented their program to the Gibson County Farm Bureau board of directors during their February monthly meeting and then met with the focus group, consisting of six agricultural producers. The focus groups were presented a number of messages that were developed, and they discussed what they liked/didn't like about each, what needed to be changed, and which messages had the greatest impact. Once Pam and Samantha have met with all the focus groups from all the high risk states, they will compile the results and develop their final marketing strategy. Tennessee is one of the high risk states for tractor rollovers.
---
Cold winter months brought a lot of networking at annual winter meetings, expos, and conferences with presentations and exhibits. TN AgrAbility was represented at: TN/KY Tobacco Expo; West TN Grain Conference; McNairy Co. Master Beef Class; TN Cattlemen's Annual Conference "Livestock, Lifestyle and Legacy," where staff were motivated by guest speaker Trent Loos, Nebraska's Voice of Rural America; Sheep Producers Annual Meeting; Dairy Producers Meeting; and the Pick TN Conference where Tim Prather presented farm safety and discussed safety planning with agritourism.
---
TNAP made a farm visit with a new farmer veteran who is raising rabbits, goats, and chickens. He has found a great niche in a local farmers market. He has unexplained seizures several times a day and medication is not helping. Doctors say it is not TBI and can't tell if it is a concussion from compression blast zone. There is a long road ahead with doctors, more tests, VA VR, and farming. His wife and children are not able to leave him on his own. TN AgrAbility identified some available resources and is hoping for more medical answers soon. Reminds us that freedom is not free!
---
TN AgrAbility is getting ready for their first farmer veteran workshop in Clarksville, TN, April 2nd. The staff is working hard to get a FVC chapter in TN and look forward to all the veteran-related sessions at the NTW too. A big thank you to Charley Jordan, TN's first Homegrown by Heroes cattle-farmer veteran, for organizing all the stakeholders and advocating for farmer veterans. TNAP welcomes any suggestions on a memorable name for the TN chapter.
Submitted by Tennessee AgrAbility Project