April 2016
National AgrAbility Project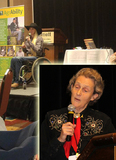 Special thanks to the NTW planning committee and all those who attended and helped make the 2016 National Training Workshop a success!We had 226 conference attendees come together from all over the US representing 36 states plus attendees who traveled all the way from Brazil and China! Of these 226 registrants, 66 were farmers, ranchers, or caregivers! This matches the record we set last year for farmer registrations and we were all happy to get to meet them all and get to know them better.
Thanks to the generous support of the CHS Foundation plus the 2015 and 2016 auction contributions, 50 farmers/ranchers/caregivers who attended were granted partial travel stipends to help pay for their registration, hotel, and travel expenses.
We had another great auction, raising a record total of over $10,000 to help cover this year's farmer travel stipends during the silent and live auctions! Thank you for making this a successful auction and a fun evening!
We were also very lucky to have the opportunity to listen to Temple Grandin and Amberley Snyder give inspiring keynote addresses at Tuesday's opening session and Wednesday night's banquet. We all greatly appreciate their attendance at the conference and enjoyed listening to each of their talks.
2016 was another good year for sponsorships. In addition to the money donated by the CHS Foundation for travel stipends, we also received sponsorships from Life Essentials, Monsanto, The Andersons, Goodwill Denver, First Farmers Bank and Trust, Premier Farm Credit, Leprino Foods, Freckles Graphics, Cooperstown Clubhouse, Craig Hospital, Farmer Veteran Coalition, and Dr. Temple Grandin which helped to cover the costs of tours, snack breaks and meals, and the hospitality suite. We cannot thank our sponsors enough for their generous contributions.
Submitted by Kylie Hendress and Paul Jones
---
Gardening is the number one hobby in the United States, and Arthritis is the number one disability. This may be a coincidence, but it also offers an opportunity for education and awareness of both! A committee of AgrAbility staff, Arthritis Foundation staff, Extension professionals, master gardeners, and others, has created a unique, comprehensive booklet: Arthritis and Gardening: A Guide for Home Gardeners and Small-Scale Producers. Topics covered include arthritis basics, gardening pre-planning, tools and accessories, overall health, pain management, and small scale fruit and vegetable production.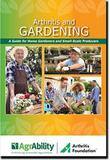 The "Arthritis and Gardening" booklet is a 24-page, color resource that is similar in size to other resources available through the NAP (Arthritis and Agriculture, Plain Facts, Back Impairments, and the Spanish Fotonovela).

This new resource has been completed and orders are now being accepted! This is a highly anticipated new resource, and is worthy of a place in your programming.
25 (minimum) - 49 = $0.60 each + shipping
50-99 = $0.50 each + shipping
100 - 199 = $0.45 each + shipping
200+ = $0.40 + shipping
1,000+ (further discounts applied)
Purchase orders are accepted, or payment can be made with check or credit card. Please use the order form found online at www.arthritis-ag.org. Shipping is not included.
Please let Amber Wolfe know if you have any questions. Please also feel free to pass this along to other organizations that could benefit from, this resource. awolfe@arthritis.org.
---
Nationally funded AgrAbility partner the Arthritis Foundation Heartland Region hosted a series of "Arthritis and Agriculture" workshops in the upper Midwest area. Amber Wolfe hosted a four-hour workshop at Peterson Farms Seeds in Harwood, ND, on Wednesday, March 30th. She hosted two sessions on Thursday, March 31st, in Sioux Falls, SD. The SD event was also a live-feed seminar that was broadcast to three other locations around the state through a partnership with the South Dakota State University regional Extension centers. The three- hour morning session was for consumers, farmers, ranchers, and families, and the two-hour afternoon session was for rural health care and education professionals.
---

The NAP supported the Farmer Veteran Coalition's Empowering Women Veterans Conference, March 4-5, at Stone Barns Center for Food and Agriculture in Pocantico Hills, NY. More than 80 women veterans attended the second such conference hosted by the Farmer Veteran Coalition. The setting was beautiful, the farming workshops, speakers, food, and camaraderie were terrific. Cindy Chastain was one of the guest speakers and the NAP had a display table as well. See more at http://www.farmvetco.org/ewvc/
Submitted by Cindy Chastain