May 2016
Maine
Maine AgrAbility Project Coordinator Lani Carlson spoke with Derek Volk about Maine AgrAbility for his weekly radio show, The Derek Volk Show. Derek is the president and third generation owner of a Maine business. He is also the author of "Chasing the Rabbit: A Dad's Life Raising a Son on the Spectrum." The second part of the interview will be with Jane and Jesse Bell, who will be talking about farming in Maine with autism. Stay tuned for the final recording!
---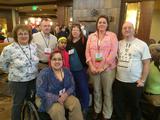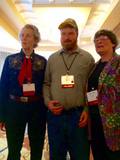 The Maine AgrAbility team was excited and proud to be part of the 2016 NTW - all twelve of them! The week was filled with presentations by Jane and Jesse Bell - farming with autism; Jerry Ireland of FVC-Maine talking about the development of the state FVC chapter; Lani Carlson sharing Maine AgrAbility's
role in supporting the FVC development; Dick Brzozowski hosting an unconferencing workshop about "Sharing Tips from the Field" and teaching tractor safety at a pre-conference session.
---
Ellen Gibson, Maine AgrAbility specialist with Goodwill Industries of Northern New England, conducted a demonstration workshop on assistive technology for gardeners during the Bangor Flower Show on April 15. Ellen also gave a presentation at the April 18 meeting of the Bridgton Garden Club, where she focused on lower back problems brought on and exacerbated by bending and stooping, and the eventual arthritis that can set in after years of repetitive motion in the garden.
Submitted by Lani Carlson