June 2016
National AgrAbility Project
On May 18 at 10:00 a.m., Cindy Chastain provided testimony to the U.S. House of Representatives Committee on Agriculture regarding veterans' contributions to national food security. Cindy did a wonderful job representing the AgrAbility Program and the veteran farmers the program serves.
She was asked several questions regarding barriers to transitioning into agriculture from military service, working with veterans experiencing the effects of PTSD, and how AgrAbility services could be enhanced and expanded. AgrAbility couldn't have asked for a more qualified and committed champion for AgrAbility.
A complete video of the hearing is available at www.tinyurl/agrabilityvets
It is hoped that opportunities like this will increase the likelihood for additional funding, from multiple sources, to further the AgrAbility mission.
Submitted by Bill Field
---
The annual Amish Handicap Gathering (their name for it) was held in Shipshewana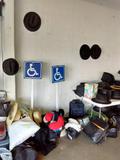 , Indiana, June 3 & 4, with more than 500 people in attendance, and Chuck Baldwin, NAP special populations outreach coordinator, was able to enjoy Saturday with this fellowship while sharing printed AgrAbility material with the attendees. The AgrAbility brochure "Plain Facts about Arthritis: A Guide to Understanding and Living with Arthritis in Plain Communities" seemed to be the most appreciated publication. Good contacts were made. Chuck learned many things about the Amish that he was not previously aware of and came to appreciate the different groups and families that came from at least 11 different states, including IN, KY, AR, MI, FL, IA, NY, OH, VA, PA, and SC.
The 2017 Amish Handicap Gathering is to be held June 9-10 at Martindale Church in Lancaster County, PA.
Submitted by Chuck Baldwin
---
Steve Swain, the assistive technology specialist with the National AgrAbility Project, and Bill Begley with Life Essentials, conducted a training for the Alabama Vocational Rehabilitation Services supervisors in their state offices in Montgomery, Alabama. The training included an introduction to AgrAbility and assistive technology for the farm. Mr. Begley then presented the various products and customers of Life Essentials. There was a lot of interest and questions, including an invitation for additional VR training and the suggestion of exhibiting at the National Peanut Festival in Dothan, Alabama.
Submitted by Steve Swain