June 2016
Tennessee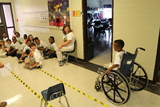 Plans are underway for several farm safety days and events this year with the newly initiated multi-organizational state-wide TN Agricultural Safety and Health partnership. The team includes UT Extension, TSU, UTK, UK, TFC, TDA, TFBF, FSA and NRCS. Overton County NRCS and Lauderdale County Extension hosted Progressive Agriculture Safety Day in Livingston in May. Disability awareness was the focus of AgrAbility staff.
---
TAP staff attended the Tennessee Association of Agricultural Agents & Specialists
Annual State Meeting and networked with agents and specialists across the state of Tennessee. TAP staff promoted the Farmer Veteran Coalition and encouraged farmer veterans to register for FVC's free membership to be eligible for Fellowship Fund and to get certified to market with the Homegrown by Heroes label.
---
Tennessee AgrAbility partnered again with the University of KY College of Nursing and Dr. Deborah Reed to deliver farmer health and safety information via a research project sponsored by CDC. Tennessee AgrAbility helps identify and recruit interested Counties and older farm couples. The unique Farm Health and Safety Dinner Theater had more than 100 people in attendance and was hosted by UT Extension offices from White, Putnam, and Van Buren counties. See Dr. Reed's great article at "Unique Dinner Theater Spotlights Delicate Social Issue:".
Submitted by Tennessee AgrAbility Staff