July 2016
Missouri
Survivors of brain injury enjoyed a week of outdoor fun at the Brain Injury Association of Missouri (BIA-MO) Donald Danforth Jr. Wilderness Camp. This is often the only outdoor recreation experienced by the individuals each year. Nearly 70 adult survivors of brain injury had the opportunity to fish, boat and zip-line. A discussion was also held on agricultural self-employment opportunities through AgrAbility.
Submitted by Maureen Cunningham
Staff Changes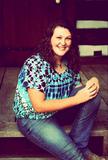 Monica grew up on a small farm just outside of Columbia, MO, where she and her family raised beef cattle. She was involved in FFA in high school and, through that, had the opportunity to be on the livestock and dairy judging teams and to perform a speech a year earlier. She also showed sheep for two years and currently shows pigs at the Boone County Fair. Monica is active in her church and has loved the mission trips she has gone on and that started her love of traveling. Monica is currently a sophomore at the University of Missouri-Columbia, where she is an undergraduate majoring in animal science. She hopes to go to the University of Missouri Veterinary School of Medicine to pursue her love for agriculture. Working with AgrAbility allows Monica more opportunities to see how agriculture differs and how it can be changed to really meet anyone's needs. It also provides a way to help people at the local level. Please welcome Monica Strawn.