July 2016
Ohio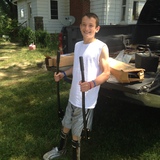 Thirteen-year-old Jacob is going to be very busy farming this summer, now that he has a hand control conversion kit for the skid loader, and two sets of hand controls for the tractors on his family's Dairy farm.
In 2009 Jacob was in a horrific car accident that cost him his mobility and took his mother's life. Jacob was not supposed to walk again, but he is a determined guy, with a strong family support system, and Jacob learned to walk using leg braces and forearm crutches.
Jacob was excited about the new hand controls, knew exactly how they would work, and explained that the hand controls would allow him to safely drive all of the tractors and to operate the skid loader. In addition to working on the farm, Jacob shows dairy cows at the Columbiana, Carroll, and Mahoning county fairs, and the Ohio State Fair.
Charlie Landis, Ohio AgrAbility Rural Rehabilitation Coordinator, has worked with Jacob and his family since February 2016, and delivered the hand controls to Jacob on June 30. Jacob got involved with Ohio AgrAbility after his grandpa heard about the program and mentioned it to Jacob's family. Because of Jacob's age, he didn't qualify for vocational rehabilitation services; therefore, Ohio AgrAbility's endowment fund was put to use to support this young man's ability to continue working on the family farm.
Jacob starts 8th grade this fall. He plays sled hockey on a Youngstown, Ohio, team, and competes in sled hockey tournaments in Ohio, Indiana, and Michigan. Jacob said he will keep helping his dad on the farm, but wants to attend college and work as a meteorologist after he graduates.

Submitted by Laura Akgerman