August 2016
Ohio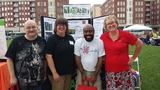 Ohio AgrAbility participated in the 2016 ADA Columbus Celebration July 28, at the Columbus Commons in downtown Columbus, Ohio. The event was an opportunity for disability-related agencies, providers, and organizations to promote their services, and celebrate the 26th anniversary of the Americans with Disabilities Act. Laura Akgerman, disability services coordinator, and Lisa Pfeifer, education coordinator, spoke with attendees and other vendors about the services AgrAbility offers, both to farmers and urban gardeners. Laura & Lisa were asked about presenting information about Ohio AgrAbility for a variety of groups, including independent living organizations, workforce development, and intellectual and developmental disabilities organizations. They will present information at an upcoming meeting of the Columbus Advisory Committee on Disability Issues, which is appointed by the mayor, to advise him about issues that are important to citizens with disabilities. They were also invited to attend and exhibit at upcoming disability services events in Ohio. The ADA event was very well attended, with 40 vendors, and approximately 500 attendees. The opportunity to share information about Ohio AgrAbility was invaluable, and the interest in having AgrAbility staff present at meetings and workshops will allow staff to further engage with the community, and capitalize on extending outreach to groups and individuals with disabilities in urban areas.
---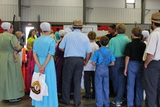 Ohio AgrAbility was among the 50 organizations and vendors to participate in the Amish Health and Safety Day on July 19th in Holmes County with approximately 500 people in attendance. Amish Health and Safety Day is a community event offered annually to provide education and information on applicable health and safety topics for Amish farmers and farm families. The event is organized by Holmes County Safe Communities in partnership with the Holmes County General Health District. A showcase of service vendors and organizations was on display with staff available to discuss and hand out information about specific programming and services available in the local areas and around the state. Speakers offered various safety demonstrations and discussions on buggy marking and lighting, tree stand safety, vaccinations, passenger van safety, and road safety. There was a bicycle skills course, a chicken BBQ benefiting local families with large medical bills, and the evening closed with an educational mock emergency crash involving a buggy and semi to demonstrate how first responders coordinate in an emergency. Ohio AgrAbility staff provided information on low-tech assistive technology and universal designs to improve their rural lifestyles. Clients inquired about the adaptive tools on display for general farm use and gardening.
Submitted by Laura Akgerman
---
Staff Changes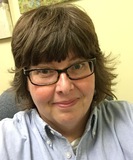 Please welcome Lisa Pfeifer, the new education coordinator for the Ohio AgrAbility team. Lisa is a graduate and past employee of The Ohio State University. She comes to us with a diverse background rich in community outreach, engagement, education, program development, and hands-on farm experience.
Lisa grew up in Crawford County and was a 4-H kid. She first left those roots to attend college at OSU and then returned to Columbus to take a position with animal sciences Extension in 2000.
Lisa can be found in 263 Ag Engineering or out in the counties delivering Ohio AgrAbility programming. Please feel free to call her at 614-292-9455 or to drop her an email at pfeifer.6@osu.edu with any questions or programming needs.