August 2016
Pennsylvania

New AgrAbility contest launches: Bridging Horizons PA Community Service Contest. AgrAbility PA has launched a new contest open to students involved in Pennsylvania FFA Chapters. The contest is aimed at making a positive impact in communities across the state for farmers or agricultural workers with a disability or long-term health condition. The contest debuted at the 2016 Pennsylvania Association of Agriculture Educators Summer Conference in July.
The Bridging Horizons PA Community Service Contest (www.bridginghorizonspa.org) provides an opportunity for students to use their problem-solving and leadership skills to benefit the community or directly impact a farmer and/or their farm. The winning entry in each category will be awarded $400; an additional $800 will be awarded to an overall grand-prize winner. The contest will accept entries in three categories:
Design and create an assistive technology table-top demonstration
Develop an AgrAbility for Pennsylvanians promotional video
Complete a service project that helps farmers with disabilities and/or their family members
Contest details and criteria for each category are available at www.bridginghorizonspa.org. Entries must be submitted or mailed by March 21, 2017 (National Ag Day).
---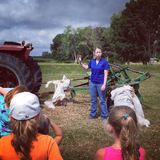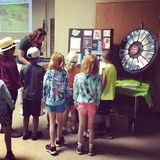 AgrAbility PA staff participated in a county farm safety day hosted by Penn State Extension. Youth at the event participated in lots of hands-on learning and demonstrations. They also had the opportunity to learn about back safety and proper lifting techniques with Mr. Lifty. The day ended with impactful stories from farmers who suffered from farm injuries, including a story shared by an AgrAbility PA client.
---
AgrAbility PA exhibited at the 2016 Farm Fest (http://farmfest.paorganic.org/) and provided information on services, support, and resources available through AgrAbility PA. The two-day event focused on organic and sustainable agriculture and consisted of local food and craft vendors, live music, farm market vendors, educational sessions and fun activities for the whole family.

Submitted by Abbie Spackman