August 2016
Tennessee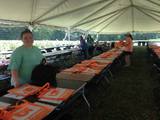 2016 Tennessee Farmer Veteran Picnic was a huge success at the 29th Milan No-Till Field Day on July 28. The day started out with rain drizzle but ended up with sunny skies. Seventy-two were in attendance (farmer veterans, speakers, Tennessee AgrAbility staff, and volunteers). Gibson County 4-H members kicked off the picnic with the pledge and singing of the national anthem.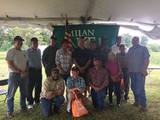 Special guests were treated to a ribeye steak plus trimmings lunch. While enjoying their lunch, speakers from the Tennessee Department of Agriculture's Pick TN Products/HGH Label; NRCS/SCS; TN House Agriculture and Natural Resources Committee; Farmer Veteran Coalition/2016 TSU Small Farmer of the Year winner; Center for Profitable Ag; TSU Tennessee New Farmer Academy; and Farm Service Agency, each gave a 10-minute talk on their veteran programs. Thank you for serving twice: military and agriculture. The lunch was sponsored by Tennessee Livestock Producers; Farmspace Systems and TN AgrAbility. The All American Beef Battalion (www.steaksfortroops.com) donated Superior Steak Seasoning for the steaks.
---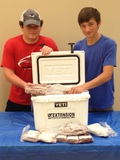 Steaks for TN veterans - WOW! Twenty-six steaks were donated by Henry Co. Livestock Producers for the Tennessee Farmer Veteran Picnic hosted by TN AgrAbility. Ten Livestock farms actually took steaks out of their freezer that were raised on their farm and donated to the lunch for Tennessee Farmer Veterans - WOW! Hunter Goodman and Murray Perkins (Henry Co.4-H/FFA members) gathered and packaged the steaks. - WOW!
---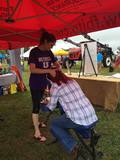 TN AgrAbility featured at 29th Milan No Till Field Day - Tense necks, shoulders, and achin' backs were eased a little by three independent massage therapists. The ROPS rebate program and National Tractor Safety Coalition were promoted by UT Research Assistant Farzaneh; TN AgrAbility is always promoting safety and this year at all events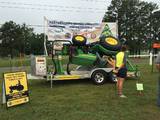 "Take the High Road- Safety" with the Tennessee Agricultural Safety and Health Partnership and KY Department of Agriculture Farm and Home safety program were on hand with demonstrations in connection with the TN AgrAbility display.
---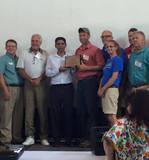 Tennessee AgrAbility featured at the 2016 Tennessee Small Farm Expo with over 400 people attending. Congratulations to Charley Jordan, Army Chief Warrant Officer 4, who was honored as the 2016 Tennessee Most Improved Beginning Small Farmer at Tennessee State University! He is an Army veteran, helicopter aviator, sUAS News aerial photographer, master beef producer, and Tennessee New Farmer Academy farmer. Charley runs CircleJRanch, raising Longhorn and Hereford cattle to produce beef, chickens for farm fresh eggs, and growing herbs under the Homegrown By Heroes label. Staff believe he will continue to inspire many more Tennessee Beginning Farmer Veterans and he is working to get a Tennessee state chapter of the Farmer Veteran Coalition.
---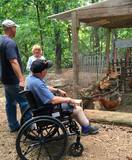 Staff learned about another group helping farmer veterans - COOPS for TROOPS. Coops for Troops provides chickens, coops, and starter kits to returning veterans, the families of deployed veterans, military schools, and VA homes/hospitals. Chickens have been shown to relieve stress, have a calming effect, and promote bonding and responsibility. The Trosts were nominated by a family member and will be on a reality TV "Coop Dreams" episode on the Discovery Channel later this year. Contact Coops for Troops to nominate a farmer veteran who needs some chickens and a coop!
Submitted by Tennessee AgrAbility