September 2016
Michigan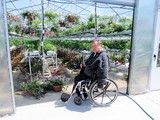 Meet Tom Kolasa, a hydroponic strawberry farmer and Michigan AgrAbility client highlighted on the Michigan AgrAbility webpage. Tom and his son, Scott, moved to the farm with the purpose of assisting Tom's aging mother. Together, they began clearing overgrown land and establishing a small fruit operation in 2001. In 2007, Tom's right leg was amputated due to Peripheral Arterial Disease (PAD). He was still able to navigate the farm with the use of a prosthesis and a power chair obtained with the help of AgrAbility. In 2010, PAD robbed him of his left foot and most of his remaining mobility.
Tom's drive in seeing K's Acres become a thriving farm-to-table operation kept him focused on the future and continuous improvement and expansion. Through the USDA Hoop House for Health program, Tom obtained a grant to purchase a hoop house. With some Michigan Rehabilitation Services and Michigan AgrAbility help, he completed the infrastructure of the greenhouse. The building was outfitted with a hydroponic system that grows strawberries eight months out of the year.
---
Michigan AgrAbility staff members double-dipped at the Michigan Upper Peninsula's State Fair in August. Not only did they have a booth, giving them a great opportunity to promote AgrAbility, but Ned Stoller also took advantage of his "Up North" visit to provide AgrAbility services to clients.
---
Last, but not least, Michigan AgrAbility would like to thank National AgrAbility staff for the successful Regional Conference held in Frankenmuth MI, on August 9-10. The speakers were informative and knowledgeable. Ned Stoller did a great job in setting up the farm tours and "interviewing" Doug VerHoeven, a long-time Michigan AgrAbility client, who spoke about farming with a disability.

Submitted by Deb Chester