September 2016
National AgrAbility Project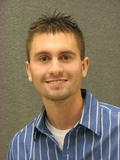 As the new Technology Outreach Coordinator for the NAP, Dr. Shawn Ehlers would like to extend an invitation to all the SRAPs to assist him in further developing the Frequently Asked Questions (FAQs) content on the NAP website. We believe that enhancement of this section would benefit both AgrAbility clientele and representatives in sharing knowledge gained through our collective experiences. Please feel free to share your unique involvements of past and/or ongoing topics through Shawn at sehlers@purdue.edu.

A few examples of the content we would like to build upon are:
Is there anything that can assist me in adding chemicals into my sprayer tank? I have difficulty climbing to the service platform, especially while carrying heavy containers.
I added a backup camera to my equipment, but the images are not clear enough for me to safely rely on. What can I do?
An operator has difficulty using the controls of a skid steer loader (SSL) due to a limb amputation or other impairment. Is there anything that can be done to assist him/her?
Submitted by Shawn Ehlers
---
Steve Swain, the assistive technology specialist with the National AgrAbility Project, and Life Essentials provided multiple displays in the Health and Safety Tent at the 2016 Farm Progress Show near Boone, Iowa. The display included Iowa AgrAbility brochures, NAP brochures and videos, arthritis brochures, AgrAbility case studies, a Life Essentials truck lift, an Action Track Stander, and multiple Journeyman scooters (one had a snow/manure blade). Contacts were made with farmers from Iowa, Illinois, Missouri, Nebraska, Minnesota, and Wisconsin. A lot of information was handed out. Iowa AgrAbility will be very busy if only 50% of the contacts at the show follow thru with contacting for services (brace yourself Chuck Larson).
Submitted by Steve Swain
---
Bill Field, NAP Director, and Chuck Baldwin, NAP's special populations outreach coordinator, helped teach and facilitate the Virginia State University (VSU) 1890s AgrAbility Workshop held at VSU August 17-18. The NAP congratulates VSU and AgrAbility of Virginia for the excellent way they worked with the NAP to plan and execute this noteworthy event.
The Virginia State 1890s AgrAbility Workshop Report can be read by clicking on the link. A quick perusal of that document will show that there were a number of key speakers who shared with the 48 attendees, including VSU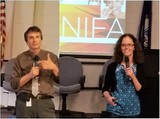 President Makola Abdullah, VSU Interim Dean Ray McKinnie, VSU Small Farm Outreach Program Director Mr. William Crutchfield, key personnel from VA AgrAbility, a wonderful panel of VA farmers, Bill Begley of Life Essentials, a panel of three from the Virginia Department for Aging and Rehabilitative Services, and last but certainly not least, Dr. Aida Balsano and Dr. Steven Thomson from the USDA/NIFA.
Submitted by Chuck Baldwin