September 2016
Ohio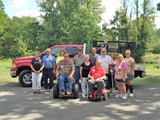 Ohio AgrAbility hosted regional summer picnics throughout the state for their program participants and their families and friends at the beginning of August. The picnic luncheons were a casual meeting that allowed peer participants to visit and learn from one another. On August 2nd, the group met at Portage Lakes State Park and on August 3rd the picnic was hosted at Indian Lake State Park. The weather was hot, but the fellowship was fun and the food fantastic. Staff introduced new program employees to participants and had a chance to learn a lot about Ohio AgrAbility clients as they visited with peers and staff. Discussions centered around assistive technology that has been beneficial, the roles and relationships that come with being caregivers, farm practices, challenges, seasonal activities going on at individual farms, and about farm life in general. It was an engaging community event that staff looks forward to repeating in 2017.
Submitted by Lisa Pfeifer
---
Ohio AgrAbility staff attended two education and networking events in August: an Opportunities for Ohioans with Disabilities (State Vocational Rehabilitation) Vendor Fair and the State of Ohio Rural Health Conference. Both events were well-attended and gave Ohio AgrAbility staff an opportunity to connect with disability services professionals and state and regional officials.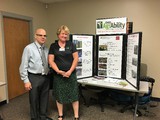 Randy Joseph, Rural Rehabilitation Coordinator, and Laura Akgerman, Disability Services Coordinator, were invited to the Vendor Fair at the Dayton VR/OOD office to meet with Vocational Rehabilitation counselors, supervisors and caseload assistants to talk about Ohio AgrAbility services, assessments, and clients. The event was an opportunity for Ohio AgrAbility to promote its services, meet the counselors, and advocate for farmers who are clients or who may become VR clients. Ohio AgrAbility Rural Rehabilitation Coordinators Randy Joseph and Charlie Landis serve Ohio farmers by assisting them in applying for VR services, and are frequently asked to write vocational assessments for VR where they are able to demonstrate their expertise on farming, assistive technology, and the adaptive equipment needed to keep farmers working. At the vendor fair, many VR counselors expressed appreciation for the in-depth, detailed assessments Charlie and Randy write, citing the inclusion of requests for equipment or devices, an estimate for purchases, a rationale of why the farmer needs the equipment, and how it would affect their ability to continue farming. Many of the VR counselors are unfamiliar with farming and the specific needs of the farmers, which makes the detailed assessments especially valuable to the counselors when determining a service plan for farm clients.
The State of Ohio Rural Health Conference was a great opportunity for Disability Services Coordinator Laura Akgerman to share information, educational resources, and to offer to lead workshops about Ohio AgrAbility throughout the state. Conference attendees included public and rural health providers and educators, as well as state, regional health, and local public officials. Several of the attendees indicated that they were not aware of Ohio AgrAbility and were excited to learn about the resources available to their clients and farming communities.
Submitted by Laura Akgerman