December 2016
National AgrAbility Project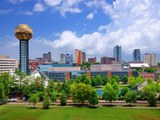 Save the Date!
The 2017 AgrAbility National Training Workshop will be held March 20-23, 2017. Conference headquarters will be the Holiday Inn World's Fair Park located in downtown Knoxville, TN.
While we won't ask for registrations until January 2017, it isn't too early to think about a few things:
Farmer Stipends! What farmers from your region should be there? How can your SRAP support one stipend? The goal will be to have each SRAP provide sponsorship for one farmer to attend the event. The National AgrAbility Project Team will be soliciting funds for farmers from non-AgrAbility states, as well as additional farmers from each state. We have seen the positive impact on those who are able to participate in this event, and look forward to working with you to bring more farmers than ever!
Auction & Raffle Items! Each year the auction events at the NTW help raise funds for farmer stipends. Successful events are due to each of you making great contributions from your projects. Do you have clients, vendors or other organizations willing to make a donation? It isn't too early to ask! NEW FOR 2017, we will be asking states to provide a basket for a basket raffle. The intent will be to involve more people, as we can all purchase $10-$20 in raffle tickets! More details coming from your Auction Planning Subcommittee soon! There might be a prize for the SRAP that provides the basket that brings the highest proceeds!
Presentations! A formal request for presentations will be coming soon. We invite you to submit those proposals, as well as to provide us with details on the things you would most like to see at the NTW.
Look for details from your NTW Planning Committee in your inbox soon!
Submitted by JoBeth Rath
---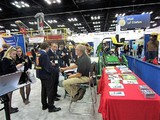 The National AgrAbility Project partnered with several ag health and safety groups including the AgriSafe Network, Ohio State grain safety, and Penn State safety program, for an exhibit at the National FFA Convention. Each organization presented their program thru interactive activities that engaged the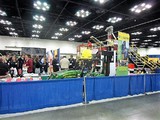 FFA members and visitors via a scavenger hunt with a safety t-shirt as their reward. The AgrAbility display included AgrAbility brochures, AgrAbility Harvest newsletters, other publications, and a John Deere tractor with a Life Essentials lift.
Submitted by Steve Swain
---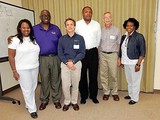 Paul Jones, NAP project manager, and Chuck Baldwin, NAP's special populations outreach coordinator,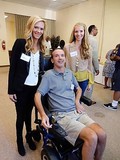 helped teach and facilitate the Alcorn State University 1890s AgrAbility Workshop held at Alcorn's Lorman, MS, campus September 12-13. A total of 59 people from six states and three 1890s attended the workshop. The complete Alcorn AgrAbility Workshop Report can be read by clicking on the link.
---
An AgrAbility workshop focused on the 1890 land grant institutions was held at Florida A&M University (FAMU) November 30-December 1. Paul Jones and Chuck Baldwin shared the teaching responsibilities, along with representatives of the Florida Division of Vocational Rehabilitation, the USDA Farm Service Agency (FSA), the Florida Alliance for Assistive Services and Technology (FAAST), and Bill Begley of Life Essentials. The FAMU Workshop Report with pictures can be viewed by clicking on the link.
Submitted by Chuck Baldwin