December 2016
Ohio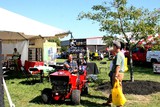 Ohio AgrAbility Program staff, along with NAP staff member Shawn Ehlers, participated in the 2016 Farm Science Review September 20–22. Attendance at the three-day event was almost 12,600, with over 600 exhibitors participating in the show.  The OAP display area included information and resources from Ohio AgrAbility, National AgrAbility, and several assistive technology and adaptive equipment companies, including disABILITY Work Tools, Life Essentials, PWR EZ, K & M Manufacturing, Propel Doors, Bump n' Drive Gates, and Action Track Chairs dealer McCabe Outdoors. To ensure no mobility devices ran out of power, OAP provided a mobility scooter & chair charging station for participants needing a recharge.
Farm Science Review always draws influential people from across the state, and this year was no exception. OAP Program Director Dee Jepsen showed Ohio Speaker of the House Cliff Rosenberger and his staff through the Ohio AgrAbility exhibit; he was very interested in the work Ohio AgrAbility does for Ohio farmers. Ohio State University Director of Extension Roger Rennekamp also stopped by the exhibit and engaged with clients, vendors, and OAP staff.
OAP was pleased to welcome a representative from Opportunities for Ohioans with Disabilities (OOD), the state Vocational Rehabilitation agency. OOD staff member Jessie was on hand throughout the show to offer guidance and information for OAP clients who receive OOD services, as well as to answer questions and offer insights for OAP staff and vendors into the OOD eligibility and funding processes.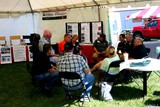 OAP staff facilitated daily Peer Network meetings with several of OAP's clients leading the discussions and relating their experiences with disability and OAP. To facilitate access to the field demonstrations, OAP sponsored an accessible shuttle bus to transport visitors from the main exhibit area to the farm fields.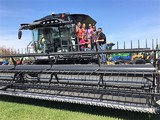 OAP staff members Laura Akgerman, Charlie Landis and Randy Joseph, developed and presented a workshop titled Helping Ohio Farmers: A Combined Effort Between the Ohio AgrAbility Program and Vocational Rehabilitation Counselors, to OOD Vocational Rehabilitation Counselors and Bureau of Workers Compensation staff. The two-hour workshop covered the history and mission of AgrAbility, information about Ohio farmers, Ohio AgrAbility, assistive technology, and resources for farmers. To emphasize the importance of the working relationship between OAP, OOD & BWC, OAP staff submitted materials to ensure that the workshop was approved for two hours of continuing education units for certified rehabilitation counselors.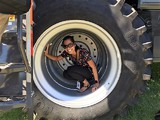 The workshop concluded with a tour of the highlights of Farm Science Review machinery exhibits, which had the double benefit of showing the workshop attendees the size of farm machinery (and the need for adaptive steps ladders, lifts etc.…) and gave them the opportunity to climb and play on the huge combines and to crawl inside the wheel of a tractor.
Submitted by Laura Akgerman