December 2016
Texas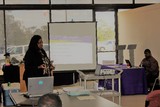 Prairie View A&M University (PVAMU) Cooperative Extension Program (CEP) conducted a series of workshops focused on socially-disadvantaged beginning farmers, ranchers, and veterans. The AgrAbility Project presentation was led by Angela L. Moore, extension associate with PVAMU CEP.
Conducting an informal poll by show of hands, Moore asked attendees to raise their hands if they knew about the AgrAbility Project. Only one person raised his hand. With that, Moore began to explain that the AgrAbility Project is a U.S. Department of Agriculture-funded program aimed at assisting farmers with a disability to continue to work in production agriculture.
Moore told the group that studies show that farmers have a high occurrence of disability, some of which is caused by accidents, both on and off the farm, such as tractor accidents or car accidents, but some of which are age and/or health-related, such as diabetes, arthritis, and vision and hearing impairment.
She explained that, following the onset of disability, it is not uncommon for a person to assume that s/he cannot continue to work as a farmer. As a result, it is not unusual for the person to lose hope, believing that s/he can no longer have a productive life as a farmer. However, the mission of the AgrAbility Project is to restore hope. In so doing, the AgrAbility project seeks not only to assist farmers with a disability, but extends assistance to their families and their employees, too.
The AgrAbility Project is available to all U.S. farmers with a disability, regardless of race and ethnicity. To broaden its outreach, the National AgrAbility Project structure expanded to work in partnerships with other organizations at the state level. In the state of Texas, the Texas AgrAbility Project works in partnership with several organizations, one of which is Prairie View A&M University. Prairie View A&M's role with the Texas AgrAbility Project is three-fold: 1) to promote the AgrAbility Project so that more people, particularly the historically underserved community, know about the project and the services available. 2) to identify persons who may qualify for the project. And 3) to direct the persons to programs and services that enable them to continue working as a farmer.
Submitted by Angela Moore
---
Texas AgrAbility will be launching the Battleground to Breaking Ground Entrepreneurial Training Project in Spring 2017. In 2012, Texas AgrAbility along with other partners developed Battleground to Breaking Ground: A Transformational Journey. This introductory workshop addresses four key areas of agriculture business: business planning, rural business opportunities, Texas AgrAbility, and funding sources. In 2016, Texas AgrAbility was awarded a New and Beginning Farmer Development Program grant to expand our services to veterans and other beginning farmers and ranchers in Texas. The project's goals are to increase the number of veteran beginning farmers and ranchers and enhance the sustainability of veteran new and beginning farmers and ranchers in Texas through face to face and online training, hands on experiential training, and technical guidance.
Submitted by Makenzie McLaurin