December 2016
Wisconsin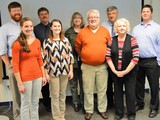 AgrAbility of Wisconsin hosted the 25 Year Celebration event on September 29th in Arlington, Wisconsin, to acknowledge the hard work, dedication, and success achieved by the program and its clients.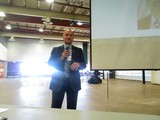 Attendees were greeted by various presenters, including: Ben Brancel, Wisconsin secretary of agriculture; Delora Newton, Division of Vocational Rehabilitation (DVR) administrator; and Paul Leverenz, vice president of Easter Seals Wisconsin and director of the FARM Team. The farmer panel, consisting of Keith Posselt, Mary Dunn, and Alan Kaltenberg, discussed their lives on the farm, their limitations and disabilities, and various changes they made to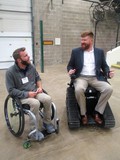 keep farming, with and without the help of AgrAbility, Easter Seals, and DVR. To finish off the event, Chad Hermanson, owner of Half Moon Outdoors and Action Trackchair representative, and Larry Bonifas, Propel Automation Sliding Doors, gave demonstrations on how their assistive technology can work around the farm. The staff, past and present, want to thank all those who have supported the program. It has reached such greatness over the past 25 years because of the hard work and dedication of all involved.
Submitted by Abigail Jensen