January 2017
Ohio
Ohio AgrAbility (OAP) was fortunate to have a partnership grant with the Ohio Attorney General (AG), utilized to supplement funding when other sources didn't meet the full needs of the farmers. The AG Fund allowed OAP to maintain an equipment Loaner Program, purchase equipment for farmers, host meetings and events for the Peer-to-Peer program, and purchase tools and equipment to enhance our educational programming.

In 2016 the AG Fund was used to upgrade a manual tilt table and sheep corralling system to an improved corralling system and hydraulic table for an aging sheep farmer who can continue to work safely with his flock. The farmer donated the manual tilt table to OAP; it has been added to the Loaner Program, and will be lent to other farmers.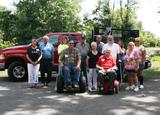 The Fund was also used to buy Standing Action Track Chairs, a trailer lift, a chicken incinerator, a Kubota UTV, and to upgrade and modify a Power Lift and a Journeyman Scooter seat. The Fund has been invaluable in "filling the gaps" between equipment funding from Vocational Rehabilitation and a farmer's resources, and has been used when a farmer is not eligible for VR services or cannot afford the upgrades or equipment. Twelve farmers received equipment or upgrades from AG4Ag funds, and many more will benefit from items that were donated to the Loaner Program as a result of the upgrades.
OAP hosted seven Peer-to-Peer events in 2016, all of which were funded in part by the AG Fund. The fund allowed OAP to reimburse the farmers for their time away from work and demonstrated to them that OAP and the Ohio Attorney General recognize the importance of their time and work.
To enhance OAP's educational trainings and displays, the funds were used to purchase ergonomic tools and equipment that minimize strain on the body and can help to prevent secondary injuries and aggravation of symptoms for existing conditions.
OAP is grateful for the AG Fund, our farmers, co-workers, and the opportunity to enhance our farmers work and lives with education, networking, peer support, and equipment.
Submitted by Laura Akgerman