February 2017
Indiana
Indiana AgrAbility Rural Rehabilitation Specialist Steve Swain exhibited at the 2017 Illiana Vegetable Growers Symposium. The symposium is a daylong workshop presenting research and field results by Illinois and Purdue University Extension educators and specialists. Twenty-five exhibitors had the opportunity to introduce themselves, their companies, and products to approximately eighty attendees during the morning session and to talk to individuals at their displays.
---
The Indiana Horticultural Congress is an educational meeting designed to meet the needs of fruit, vegetable, wine, organics, and specialty crop growers and marketers in Indiana and surrounding states. The three-day event provides the opportunity for attendees to network, talk with exhibitors, listen to producers panels, and learn about research from researchers, professionals, and Extension educators. Indiana AgrAbility was one of over 50 exhibitors and provided information on farming with a disability, assistive technology on the farm, Farm Service Agency, beginning farmer resources, and veteran resources.
---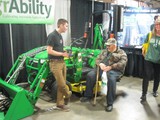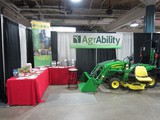 The 28th Annual Fort Wayne Farm Show was held at the Allen County War Memorial Coliseum in Fort Wayne, Indiana. The show draws over 30,000 farmers, their families, professionals, and exhibitors. Indiana AgrAbility staff and volunteers presented AgrAbility publications, veteran resources, and Farm Service Agency publications, and showed a John Deere tractor with a Life Essentials lift.

Submitted by Steve Swain
---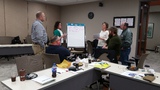 On February 4th, 18 military veterans and leaders in the agricultural industry came together at the Farm Bureau building in downtown Indianapolis to discuss starting a Farmer Veteran Coalition Indiana chapter. Representatives from Purdue, Indiana AgrAbility, USDA/Indiana Grown, NRCS, FVC, and Farm Bureau met with farmer veterans from across the state of Indiana to discuss the initial planning for the chapter. The planning process includes creating a working group, identifying chapter leadership, and the creation of a two-year business plan.
Submitted by Katherine Prasuhn