February 2017
National AgrAbility Project
NTW Updates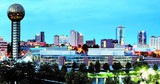 Registration for the 2017 NTW is LIVE!
To register online: www.Conf.purdue.edu/nta17
(or via paper - click here for form)
I have registered, what else is on my "to do" list?
Send Vendor Contacts! Do you know of anyone who would like to be an exhibitor or vendor? Let us know, or forward the registration link to them. Our Exhibitor space this year is located in a high-traffic area near registration / information and on the way to and from conference session rooms. Exhibitor Form
Book your hotel room! Our block is reserved through February 22nd. Rooms have been reserved at the rate of $96 per night.
Conference Hotel: Holiday Inn World's Fair Park
Online reservations, click: National AgrAbility Conference Booking Link for the Holiday Inn World's Fair Park, click Book Now and select dates.
To call for reservations: 1.888.HOLIDAY, and provide Block Code NAC
Hilton Knoxville for additional accessible rooms:
Online reservations: click here.
To call for reservations: 865-251-2573 and provide Group Code NAPC
Work on creating a basket for our raffle! Theme, no theme, it matters not! In addition to auction items, we will be soliciting a basket from each SRAP to raffle. Raffle tickets will be available at a low price, allowing everyone to participate in our fund-raising efforts even if they don't have auction-sized wallets! Need inspiration? https://www.pinterest.com/explore/raffle-baskets/
Solicit Auction Donations! No item is too big or too small! Talk to vendors, clients, local businesses, and see what they may be able to donate. Seems too small? No fear, we can bundle items for Silent and Live auction to create a much-desired item! Please let us know what you have so that we can keep track!

Submitted by JoBeth Rath