February 2017
Pennsylvania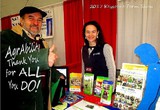 Staff represented AgrAbility PA at the 2017 Keystone Farm Show, the largest commercial farm equipment and service provider trade show in Pennsylvania. The show targets full-time production farmers in the Mid-Atlantic area. AgrAbility PA provided information to attendees about assistive technology, farm equipment modifications, financial resources, and secondary injury prevention. AgrAbility PA Project Assistant Abbie Spackman also received a huge thank-you from a client for the help AgrAbility PA provided to continue his farming operation.
---
AgrAbility PA staff has been fighting the unpredictable Pennsylvania winter weather to conduct farm assessments and attend Penn State Extension crop conferences and other agricultural conferences and events throughout the state. The Extension conferences are hosted by the county Extension offices and draw in farmers who are looking to hear the latest agricultural news and gain pesticide application credits. AgrAbility PA staff provides information on services and visits with past and potential clients.
---
AgrAbility PA staff had a great opportunity to take part in the 101st Pennsylvania Farm Show, which is the largest indoor agricultural exposition in the country. The Pennsylvania Department of Agriculture hosted AgrAbility PA and several other governmental and nonprofit organizations. AgrAbility PA was in attendance on the day veterans, active military, and their families were honored and recognized for their service.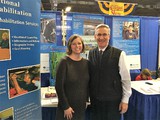 PA Dept. of Agriculture Secretary Russell Redding was on hand to talk about the opportunities for all Pennsylvanians in the agricultural industry, but especially highlighted ones for those with military experience. Kendra Martin, outreach coordinator for AgrAbility PA, met with Sec. Russell.

Submitted by Abbie Spackman