February 2016
Tennessee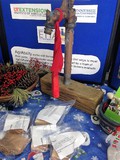 Tennessee AgrAbility Project (TAP) participated in the Tennessee Cattlemen's Association Convention held in Franklin, TN. The dairy and sheep conferences were held in conjunction with the convention. "Get your Soap in a Hose at the Tennessee AgrAbility exhibit", was the saying at the convention. TAP staff handed out soap in a knee hi; along with instructions for tying to an outside hydrant for convenient access to soap; or, as someone said, "These are used in prisons as weapons, only the soap is in a pillowcase." Anything to draw attention to the AgrAbility exhibit.
---

TAP attended the Pat Summit Clinic open house, located in the Brain and Spine Institute at the University of Tennessee Medical Center. As the number of patients afflicted by Alzheimer's disease grows to epidemic proportions in the United States, the clinic will expand its treatment capabilities, research initiatives, and family support and educational programs for Alzheimer's and other dementias. The clinic opening fulfills the wishes of the late Pat Summitt, the legendary longtime coach of the Tennessee Lady Vols basketball team who raised national awareness about Alzheimer's after being diagnosed with the disease in 2011. Summitt passed away in 2016. The patient-focused approach is evident in numerous design elements of the clinic. A large aquarium in the lobby of the clinic, artificial lights behind shutters against the walls inside patient rooms that simulate appealing natural light, and a careful selection of materials and color schemes throughout the clinic, are all meant to provide a soothing and comforting environment for patients and visitors according to medical center representatives. (Pat Summit Foundation).
---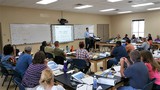 Registration for the TSU Tennessee New Farmer Academy has begun. The Academy is a seven-month certificate program designed for those with an interest in becoming agricultural entrepreneurs. This program focuses on teaching the concepts, providing the information, and facilitating the hands-on experience needed to build solid, viable, and successful agricultural businesses. Contact Finis Stribling at fstribling@tnstate.edu for additional information.
---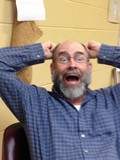 In between developing a new Tennessee AgrAbility grant proposal and the NTW, the TAP has been busy this past month. Lots of planning, calls, helping with logistics and educational tours for the NTW to be hosted in Knoxville, TN, in March. TN AgrAbility hopes each of you are making plans to attend and to bring someone with you. Connect with www.VisitKnoxville.com. TAP is enjoying all the EXCITEMENT! We are known as the VOLunteer state.
Submitted by Tennessee AgrAbility Project