March 2017
California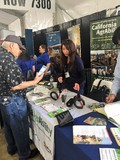 The 2017 World Ag Exposition at Tulare was a marketplace and celebration of agriculture machinery and resources to encourage inventions and innovations in the world of agriculture. Approximately 100,000 people attended from 47 states and 79 countries. California AgrAbility staffed a booth in conjunction with National AgrAbility. Lee Rosenblum, from Farmer Veteran Coalition, was a guest exhibitor collaborating with staff for outreach.
---
CalAgrAbility staff attended a talk on approaches to understand the mechanisms of Traumatic Brain Injury (TBI). Falls disproportionately affect older and younger groups of individuals. The most commonly reported head injuries for kids under two years-old are from falls. More than two-thirds of TBIs in elderly adults are caused by falls as well. From 2006-2010, falls accounted for over 40% of TBIs. Remote skull fractures can occur from a small fall; however, the injury severity depends on the direction of head rotation. Sagittal rotation produces the greatest reduction in cerebral flow, beginning less than 10 minutes after the impact.
---
CalAgrAbility staff attended the RISE Collaborative meeting, and the collaboration between CalAgrAbility and Vocational Rehabilitation was the highlight of the presentation. CalAgrAbility notified the group about the new "Event Locator" tab, which was well-received, leading to an agency representative requesting to have an event added to the event tab.
---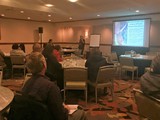 CalAgrAbility was present at the 2017 Migrant Western Stream Forum. Every participant received a CalAgrAbility program brochure with their conference bag. A few of the workshops were focused on mental health and how to crack the barriers to addressing it. Mental health is seen differently by every person, and when you ask a person to describe mental health in one word the same word is interpreted differently.
---
CalAgrAbility staff tuned in to the all-staff meeting online and to the AgrAbility Virtual National Training Workshop. Staff are particularly interested in incorporating hands-on activities to CalAgrAbility's outreach presentation for VR counselors using tips from Georgia's presentation. Staff look forward to catching up with everyone at the NTW in March!
Submitted by Esme Mandujano