March 2017
Nebraska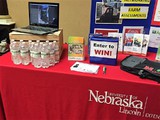 Nebraska AgrAbility team members Emily Freudenburg, rehabilitation specialist, and Susan Harris-Broomfield, Extension educator in rural health, wellness, and safety, presented at the annual Nebraska Women In Agriculture conference in February. Their focus was on how lack of sleep affects health and messes with the ability to think clearly and make good decisions to stay safe while working, resulting in injuries on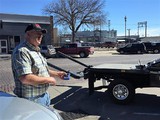 the farm or ranch. They offered tips on getting better sleep to a full-house audience of participants, and look forward to presenting a similar program at the NTW. During the meeting, member Kelly Florell, of Kelly's Sales and Service, demonstrated how the hydrabed works for NE AgrAbility's clients.
---
The Nebraska AgrAbility Advisory Committee met in Kearney on February 22 with 14 members attending. Members included vendors, providers, and clients. Six staff were able to attend and learned many ways they can promote AgrAbility in Nebraska. They discussed ways to use social media to educate farmers, ranchers, and their families about the availability of assistive technology and the AgrAbility program.
---
Nebraska AgrAbility is preparing to hold a workshop for occupational and physical therapists in April in northeastern Nebraska. This workshop is designed to educate the therapists about the special needs of rehabilitating farmers and ranchers. Many times the therapists have no direct contact with the farming community and this training allows them to see farming and ranching in action.
---
Susan Harris-Broomfield will be representing Nebraska AgrAbility at the 29th Annual Governor's Ag Conference March 14th and 15th in Kearney. The audience will be comprised of agriculture policy leaders, producers, academics, and agribusiness representatives. Booth space is provided and Susan will promote all Nebraska AgrAbility has to offer.
Submitted by Nancy Frecks