April 2017
California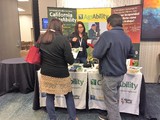 CalAgrAbility staffed a booth at the AgSafe Conference. Each year this conference draws about 1,000 participants. AgSafe's mission is to advance the food and farming industry's commitment to a safe, sustainable workforce and food supply by providing practical education and resources. Attendees at this conference actively search safety information. Staff had multiple conversations with farmers, farm managers and workers.
---
CalAgrAbility and Ability Tools staff attended the 2017 AgrAbility National Training Workshop, including Dr. Reed's focus group on farmer suicide prevention. CalAgrAbility staff take the Mental Health First Aid training followed by the safeTalk suicide prevention training to equip them with skills to respond to signs of mental health challenges and provide support and resources. CalAgrAbility's newest staff member, Sara Wat, is scheduled to sit in for her Mental Health First Aid training this month.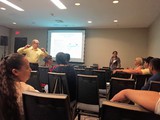 ---
CalAgrAbility staff attended the Migrant Education Parent Conference. The event brought together 700 parents from around California. Many of the attendees live and continue to work in agriculture with musculoskeletal diseases such as carpal tunnel and arthritis. CalAgrAbility presented on AgrAbility services.
Submitted by Esme Mandujano