April 2017
Georgia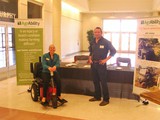 Staff attended the 2017 Agriculture and Natural Resources (ANR) Extension Agents and Specialists conference held in Perry, GA, March 9-10, 2017. Staff exhibited several assistive technology solutions for farmers with disabilities. Over 100 ANR agents and specialists attended the event and GA staff was able to share information about AgrAbility with them.
---
Georgia AgrAbility staff, a farmer veteran client, and a representative of the Shepherd Center, GA AgrAbility's partner, attended the NTW in Knoxville,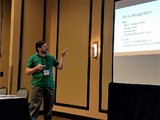 TN, on March21-23, 2017. Georgia AgrAbility staff presented at two sessions. The first session was presented by Dr. Hamida Jinnah and Paige Tidwell, who partnered with Dr. Robert Fetsch, to discuss an upcoming qualitative study identifying factors contributing to positive QOL outcomes. The second session was presented by Dr. Glen Rains, co-director of the Georgia AgrAbility Project, and was called Emerging Technological Solutions for Farmers with Disabilities.
Submitted by Rebecca Brightwell