April 2017
Indiana
Indiana AgrAbility attended and exhibited at the 2017 Indiana Small Farm Conference held at the Hendricks County Fairgrounds in Danville, Indiana. AgrAbility staff attended sessions and visited with attendees concerning accessibility of their small farms. The display included AgrAbility popup banners, AgrAbility publications, Arthritis and Agriculture, Back impairments, Gardening and Agriculture, the AgrAbility 25-year Report, the NAP video, AgrAbility Harvest, and National AgrAbility Training Workshop save-the-date cards. In addition, there were publications from Vocational Rehabilitation Services, the Farm Service Agency, and the Natural Resources Conservation Service. There were also resources for beginning farmers/veterans and an opportunity for veterans to be involved with the Farmer Veteran Coalition, as Cindy Chastain and other veterans are starting an Indiana chapter of the Farmer Veteran Coalition.
Submitted by Steve Swain
---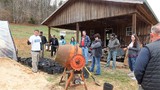 Indiana AgrAbility, in partnership with the Indiana Beginning Farmer/Rancher Development Program, was able to take nine farmer veterans from Indiana to the 2017 National Training Workshop in Knoxville, TN.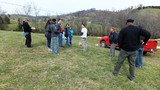 The veterans toured four small/beginning farms in TN, of which two were veteran-owned. They were also able to attend the NTW and many breakout sessions, in addition to networking with other small farmers and veterans.
Submitted by Katherine Prasuhn