April 2017
Kentucky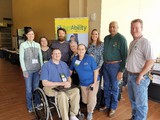 Thank you, Tennessee, for hosting an amazing workshop. KY AgrAbility so enjoyed talking and interacting with all the other states and the national group. New members to KY AgrAbility were able to better understand the goals and scope of the work that AgrAbility does. The sessions were great and it was hard to choose which ones to attend. The Kentucky group met each day and tried to get someone into each session so they could share their knowledge when they returned. The tour to King's Hydro-farm showed what can be accomplished in a small area. Another educational opportunity arose trying to get a large tour bus down a narrow Tennessee road. It was like trying to get a ship into a bottle. But everything worked out and the tour was informative and made everyone want to grow strawberries and vegetables in hydrofarm high tunnels. The other parts of the tour, UT Organic farm and the Seven Springs Winery, were also very interesting. And who could doubt the perfect ending to the tour, sampling wine in a rocking chair on a sunny porch in the back hills of Tennessee.
---
ISASH will be in Logan, UT, in June, and RESNA (Rehabilitation Engineering and Assistive Technology Society of North America) in New Orleans, LA. These events will be overlapping. Kentucky has several persons going to those conferences from its KY AgrAbility partners. They will be there to put the AgrAbility ideas and goals into the conversations with the therapists and educators at both workshops.
---
July is the 20th Anniversary of the Third Thursday Event at the Kentucky State University Research and Demonstration Farm in Frankfort, KY. The celebration will be on July 20th and KY AgrAbility will be a big part of the day-long events. Modified equipment will be on display and several other pieces of equipment and tools will be available for demonstration and for people to try.
---
August will see KY AgrAbility back in the classrooms and attending the ADED, (Association for Driver Rehabilitation Specialists) conference, in Albuquerque, NM. Also in August is the KY Appalachian Rural Rehab Network Conference at Eastern Kentucky University in Richmond, KY. This is attended by OT, PT, and nursing students, as well as counselors from KY OVR and disabled persons.
Submitted by Linda Bokros