April 2017
National AgrAbility Project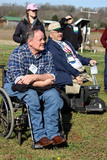 NTW Recipe for Success
In Knoxville, Tennessee, add:
1 Amazing Planning Committee
1 Incredible Host State
239 Attendees from 34 States and One Canadian Province
61 Speakers, Presenters & Panelists
45 Educational Sessions
25 Exhibitors
9 Generous Sponsors
Sprinkle with multiple networking opportunities and marinate for 2 1/2 days.
Separately, mix:
85+ Silent and Live Auction Donations
15 Raffle Basket Donations
1 Amazing Auctioneer
250 Incredibly Generous Buyers and Bidders
Top with:
Two tours, the experience of over 100 farmers and 20 farmer veterans and AgrAbility Professionals from across the US and Canada.
Recipe will yield one successful AgrAbility National Training Workshop, providing educational and networking opportunities for AgrAbility professionals, partner organizations, and farmers. Funds raised for the families of Kylie Hendress and Cliff Racz plus the farmer stipend fund will surpass $10,000 in total, demonstrating the extreme generosity in the AgrAbility community.
---
Opportunities to Host AgrAbility Educational Events
With a successful 2017 AgrAbility National Training Workshop behind us, it is time to begin thinking of the rest of 2017 and beyond!

There are two opportunities for SRAPs to become more involved in upcoming training events! On a smaller scale, there are available stipend dollars for a SRAP to collaborate with a non-funded state to host a Regional Training Event. If you are interested in learning more, or would like to host an event, please contact Tess or JoBeth, and they can fill you in on all the details! Click here for an application form. This opportunity is available for 2017, 2018, 2019, and 2020!
On a bit larger scale is the opportunity to have the AgrAbility NTW in your back yard, showcasing your state. States considering this for 2018, 2019, or 2020 should contact JoBeth or Tess or click here for an application form.
Tess McKeel: tmckeel@abvi-goodwill.com 585.447.9015
JoBeth Rath: jbrath@abvi-goodwill.com 585.402.2059
Submitted by JoBeth Rath and Tess McKeel
---
AGRABILITY DEMOGRAPHICS COLLECTION WEBINAR MAY 3, 2017

Each year, SRAPs are required to provide to the NAP with demographic data about the clients they serve. NAP staff, with the help of a committee composed of Paige Tidwell (GA), Karen Funkenbusch (MO), and Anne Brown-Reither (UT), and using the suggestions that came out of the PI session at the 2017 NTW, have updated the AgrAbility Demographics Collection Tool for the 2016-2017 demographics reporting period.

To facilitate the use of the revised collection form, the NAP will be conducting a webinar on Wednesday, May 3, at 2:00 PM Eastern Time, for ALL SRAP STAFF, ESPECIALLY THOSE INVOLVED IN COLLECTING AND REPORTING DEMOGRAPHIC INFORMATION. Chuck Baldwin, NAP's current demographics coordinator, will present on the changes of the revised Excel and Web versions and answer any questions or concerns about the demographic data collection process. Dr. Shawn Ehlers will be on hand to assist with any questions on the technical aspects and changes of the collection tool.

Please note that while the basic demographic reporting process remains the same, some significant updates have been made to the collection tool. Therefore, it is strongly recommended that SRAP staff participate in this webinar.

The webinar is designed to be interactive, as the NAP hopes that listeners will participate in making suggestions for the revised tool prior to its final distribution for SRAP use in May. It will also be recorded so that SRAPs can use it as an aid for filling out the demographic collection form and sending the report to the NAP. Specifics on how to connect to the webinar will be sent in an upcoming email.
Submitted by Chuck Baldwin, Shawn Ehlers, and Paul Jones
---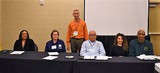 Chuck Baldwin, NAP's special population outreach coordinator and new demographics coordinator, participated in the 2017 NTW 1890s session and also in the PI session where he assisted Dr. Shawn Ehlers in presenting the revised Excel demographics collection tool for the purpose of receiving further comments and suggestions to make the tool more useful.
The 1890s session was led by a panel composed of five different 1890s' representatives: Dr. Paula Faulkner (NCA&T), William Crutchfield (VA State), Louis Rivers (KY State), Melissa Stewart (WV State), and Susan Jaster (Lincoln University, MO). Many of the excellent accomplishments of the 1890s were presented, as were ideas for better inclusion of the 1890s in the total scope of AgrAbility. Dr. Aida Balsano, USDA/NIFA, attended the session and added valuable insight during the discussion period. Good questions and comments were made by several in the audience as well.
---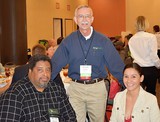 In addition to a good contingent of 1890s personnel at this year's NTW, the NAP was happy to have the participation of Patricia Hammond, a representative of the Native American Oglala Lakota tribe in South Dakota, and Extension worker for South Dakota State University. Patricia is hoping to work with youth on the Pine Ridge Indian Reservation to teach them good ways of gardening, farming, and ranching, so that their community can heal and move forward in life. She expressed gratitude for the many things she learned at the NTW.
Submitted by Chuck Baldwin