April 2017
Wisconsin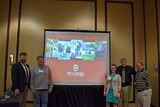 Four AgrAbility of Wisconsin staff and two Wisconsin farmers participated in the National Training Workshop held in Knoxville, TN. During the event, Abi Jensen, AgrAbility of Wisconsin outreach specialist, presented on social media and digital outreach for AgrAbility projects, focusing on strategies to increase awareness of the program to target audiences. Additionally, Brian Luck, AgrAbility of Wisconsin co-director,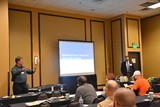 and Paul Leverenz, Easterseals Wisconsin vice president of FARM and vocational services, presented on the beginning farmer grant in Wisconsin, highlighting the purpose, methods, and outcomes to date. The staff would like to thank all of the participants in the sessions for actively participating with great questions and thoughtful discussions.
---
The AgrAbility of Wisconsin is grateful for the help from the staff at the National Farm Medicine Center for hosting another great annual AgrAbility of Wisconsin Summit, held March 15th in Marshfield, WI. Topics covered during the day-long event included assistive technology, safety on the farm, and succession planning for farm families. Videos of the presentations can be found on the AgrAbility of Wisconsin Facebook page and website.
Submitted by Abigail Jensen