May 2017
Maine
Lani Carlson shared universal design concepts and ideas at the Cooperative Extension Fruit and Vegetable School workshops in Bangor and Portland on March 27 and 30. These day-long events brought in over 100 people to receive annual education for pesticide credits. A scrolling PowerPoint presentation was used throughout the day on a digital picture frame to share information. (trying to get posted to our website- maybe can share link next month)
---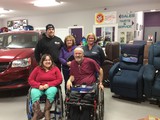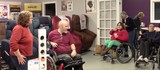 Maine AgrAbility Specialist Wanda Caron, COTA, talked about hydroponic growing to one of her peer support groups on April 6. Wanda talked about the possibility of gardening from a wheelchair: growing strawberries in stacked crates, raising tomatoes in five-gallon buckets, and how to build a grow tower for greens. The peers really enjoyed this opportunity to learn and work together.
---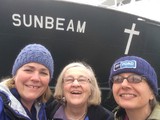 Project Coordinator Lani Carlson traveled to three island communities with the Maine Seacoast Mission Network crew aboard the Sunbeam. During the trip, universal design concepts were discussed with lobstermen and their sternmen. Ann Backus, Harvard T.H. Chan School of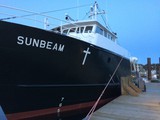 Public Health, was also aboard talking about safety in the lobstering industry and discussing PPE (personal protective equipment). Everyone collectively brainstormed on typical land-based assistive technology's applicability to the fishing industry. The weather was foul but the learning experience was amazing! See more by clicking here.
Submitted by Lani Carlson