June 2017
California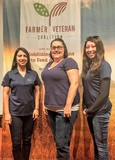 CalAgrAbility and National AgrAbility staffed a booth at the Empowering Women Veterans Conference in Santa Rosa, California. The conference included a beginning farmer track and an established farmer track. The luncheon included a speech from Mickey Willenbring, a U.S. Army veteran and owner of Dot Ranch in Oregon. She delivered an inspiring speech in which she described her journey from the military to becoming a successful rancher. CalAgrAbility staff met in person with a consumer from San Diego. Sara Wat from CalAgrAbility has been assisting this veteran remotely. Stay tuned for this farmer's story in the CalAgrAbility Quarterly!
---
CalAgrAbility had a booth at the Veteran Outreach Workshop hosted by the USDA. The event was also sponsored by Farmer Veteran Coalition, VBOC (Veterans Business Outreach Center), and SBA (U.S. Small Business Administration). The workshop was attended by veterans and staff from around the Modesto area. Speakers from various agencies informed veterans about the services available to them to enable them to start and continue gardening and farming.
---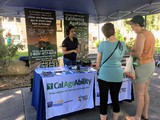 CalAgrAbility staff attended the first health and safety fair at the Woodland Farmers Market. This event was held in conjunction with the Kids Farmers Market and sponsored by Kiwanis and Woodland Healthcare. Residents of Woodland enjoyed the farmers market and free resources for health and safety. Attendees were interested in the assistive tools demonstrated for gardening to help manage chronic illnesses. The Arthritis and Gardening booklet was a popular item on the table. Participants were also able to have their vitals taken for free, such as blood pressure, BMI testing, and much more.
---
CalAgrAbility joined regional Migrant Education and California Human Development staff for outreach at migrant housing centers around the Delta area. Many of the workers migrating to these centers are residents of Southern California and travel up to Washington picking pears, cherries, and apples. At one location, staff spoke to over 50 workers.
---
CalAgrAbility attended the XVII Binational Promotores Conference in San Francisco. Over 300 promotores from Colorado, Idaho, California, Mexico, and Guatemala attended the event. The event featured America Bracho from Health Access as a guest speaker who talked about making rural communities part of the solution. She often listened with an open heart, asking what can help rural communities direct promotores, health workers, and other service providers like AgrAbility to find and be part of the solution. A session on occupational health and safety was also offered where attendees learned about safety interactively.
Submitted by Sara Wat