June 2017
National AgrAbility Project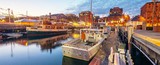 Save the Date for NTW 2018!
The AgrAbility National Training Workshop will take place in Portland, Maine, March 19th-22nd, 2018.
Three great proposals were received, and the Site Selection Committee narrowed those down to two cities and three sites based upon available space and dates. An all-staff vote let us know that Maine is where you would like to be in 2018!
Please watch your email for an invitation to be on the Planning Committee, and for the opportunity to submit an application to host the NTW for 2019. As we have grown our conference, our space requirements have also grown, and advance planning will provide us with more options.
As you are out and about in these summer months visiting clients, it isn't too early to consider stopping in at a local business to solicit auction donations, and sponsorship dollars.
As always, your input and feedback are welcome to make NTW 2018 the best yet!
Contact JoBeth or Tess anytime at: - JoBeth Rath - jbrath@goodwillfingerlakes.org 585.402.2059 and Tess McKeel - tmckeel@goodwillfingerlakes.org - 585.447.9015
Submitted by JoBeth Rath
---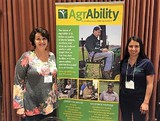 NAP Veteran Outreach Coordinator Cindy Chastain and California SRAP Outreach Specialist Esmeralda Mandujano participated in the Farmer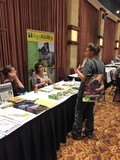 Veteran Coalition's "Empowering Women Veterans: Business, Agriculture and Well-Being Conference" in Santa Rosa, CA, May 3-5, 2017. Approximately 100 women veterans attended the conference, which included educational workshops and a farm tour. AgrAbility staff participated in the training sessions, maintained an information table, and interacted with participants.
Submitted by Cindy Chastain
---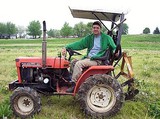 AgrAbility Clients and FSA: In 1982, Ed Bell of Hagerstown, IN, was shot by an attacker, resulting in a spinal cord injury and paralysis just below his arms. Due to the cost of medical bills, his family was forced to sell their family farm. But Ed and his wife, Debbie, saw this as an opportunity to keep the family farm by applying for a loan through the Farm Service Agency (known at that time as the Farmer's Home Administration). With the loan, the Bells were able to purchase the farm and maintain several of the original buildings on the property. "I'm not sure commercial banks would have looked at us," Ed said. "We were young, and I was still recovering and adapting."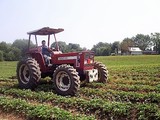 Later, Ed again went to FSA to purchase tractors that were adapted for his disability. The first tractor, an Allis-Chalmers 5015, allowed Ed to position himself in the seat without too many issues, while the Hesston he later purchased was adapted with a chair lift. In the first few years of the farm, Ed worked with local machine shops and Indiana Vocational Rehabilitation (VR) to modify his farm equipment. Now Ed uses lifts from Life Essentials (a company that custom-designs mobility adaptations for agricultural equipment) and still works with VR. Today, Ed and his wife have a successful strawberry farm, and he also raises asparagus and Doberman puppies. He has been able to support his family through agriculture. "FSA helps you out if you're getting started or need help staying afloat. I appreciate working with them to this day."
Submitted by Katherine Prasuhn