July 2017
Texas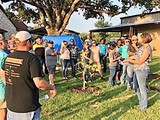 Texas AgrAbility hosted the first Battleground to Breaking Ground workshop, accompanied by a farm tour the day before. The farm tour and workshop were held at K Bar M Ranch, a grass-fed Belted Galloway ranch, on June 2nd. Kim and Mike, owner-operators of K Bar M, shared their operation, management practices, and personal experience being in agriculture after serving in the military. Participants had the opportunity to network with one another and ask the producers questions about their operation. A farm-to-table chef also catered the event, using grass-fed beef and products from a local producer and AgrAbility client Doug Havemann.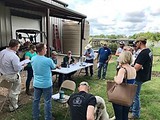 The Battleground to Breaking Ground workshop at K Bar M Ranch was held on June 3rd. Participants were broken up into groups based on production area. Groups were paired with a successful farmer/rancher in that production area. They participated in a question and answer session and had some of their questions and concerns addressed. 100% of workshop participants indicated that they would recommend the workshop to others and that they expected to benefit economically from what they learned.
---

The first-ever Battleground to Breaking Ground Field Day was hosted June 24 at Mesquite Field Farm. Mesquite Field Farm is a grass-fed beef operation in Nixon, Texas, owned and operated by Texas AgrAbility clients Melissa and Doug Havemann. Attendees learned about land planning, biological monitoring, soil health, grass-fed beef herd health, intensive rotational grazing, and grazing planning.
---
---
Texas AgrAbility will be hosting a Battleground to Breaking Ground workshop in Dallas at the new Briscoe Carpenter Livestock Center on August 4th. The evening before the workshop there will be a farm tour and networking event at Bonton Farms, an urban farm in the heart of Dallas. Workshop topics include Texas AgrAbility, Business Planning, Funding Resources, and much more!
Submitted by Makenzie McLaurin
---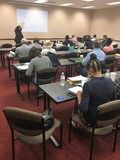 Ms. Angela L. Moore, Extension associate with Prairie View A&M University Cooperative Extension-AgNR and case manager for the Texas AgrAbility Project, led the discussion on government resources and services during a workshop titled "Government Assistance for Agriculture Producers and Youth" held in Rosenburg, TX. During her talk, Moore explained that the Texas AgrAbility Project is a USDA-funded program geared towards providing resources and services to ag producers with disabilities to enable them to continue working in production agriculture. Moore noted that in addition to commonly known disabilities associated with mobility, for the purpose of this program, medical conditions such as arthritis, vision impairment, obesity, and diabetes are also considered disabilities. She further noted that disabilities can exist from birth, but may also result from vehicular or farm accidents, be health-related, such as obesity, hypertension, and diabetes, as well as result from aging, such as hearing loss and vision impairment. Angela explained that no matter the cause of a disability, the AgrAbility Project can restore hope to the ag producers with disabilities, their families, and their farm employees. Helping people go from devastation to restoration is what the AgrAbility Project is all about and, to that end,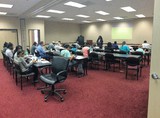 Texas AgrAbility is all about restoring hope to Texas ag producers under those circumstances. AgrAbility provides Ag producers with resources that enables them to function at a higher level and thereby return to a more active and productive lifestyle. And, to someone who has suffered a life-altering disability, that can be a life-changing, and some even say, a life-saving accomplishment.
Submitted by Angela Moore