August 2017
Kentucky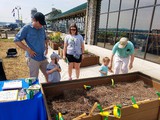 Kentucky AgrAbility has been busy this summer. The 20th Anniversary of the KY State University's 3rd Thursday Event on July 20th hosted about 1,200 people. After the recognition of the award-winning program, lunch was served and the sessions began. There was something about every type of agriculture, including livestock, aquaculture, wine making, farm to market advice, and AgrAbility.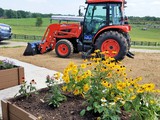 KY AgrAbility's tractor was demonstrated along with other adapted farm vehicles and various gardening tools for use in raised garden beds. The accessible garden beds at the venue allowed participants to try the garden tools and see the different types of accessible garden areas. The day closed with roasted BBQ dinner and music.
---
Mike Lewis traveled with the KY Dept. of Agriculture safety team to Paducah. The safety crew brought the ROPS roll-over simulation tractor, and KY AgrAbility was able to take the demonstration tractor showing the seated lift, stand up lift, hand controls, and other modifications available for those with disabilities.
---
Harvesting began at the Easter Seals accessible gardens at Cardinal Hill Rehabilitation in Lexington. The children have done an amazing job and are educating others in their family about the nutritional value and health benefits of growing their own food. They are so enthusiastic about sharing their bounty and their knowledge. The adult accessible garden is reaping benefits for the older group also. Besides getting the fresh vegetables, they are enjoying the time outside, and the ability to grow things and work with the earth can make anyone feel better.
---
Several meetings are scheduled with county agents and a webinar for them will be presented in August. KARRN (KY Appalachian Rural Rehab Network), will hold its conference on the Eastern KY University campus on August 29th. Later that evening the Fayette/Scott County Field Day will be held at the Bluegrass Stockyard in Lexington. This will make for a full day of events for the KY AgrAbility staff.
Submitted by Linda Bokros