September 2017
Georgia
The bi-annual board meeting for AgrAbility was held on August 24, 2017. The board is made up of commodity leaders, farmers, and industry heads. The group continued discussion on sustainability strategies for the AgrAbility project. The meeting was held at the Georgia Cattleman's Association headquarters in Macon, Georgia.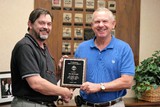 Don McGough was presented the Georgia project's annual Award of Excellence. This honor is given in recognition of an individual or organization that has contributed to improving the quality of life of farmers and their families in the state of Georgia.
Don McGough had served on the AgrAbility board since 2006. He recently retired from his position as the commodities director for the Georgia Farm Bureau's state office. He has played an important role in helping Georgia farmers succeed throughout his career.
"Don has always been a strong supporter of the mission of AgrAbility. He was instrumental in giving our project vast media exposure through Georgia Farm Bureau's publications and TV cable channel", said AgrAbility in Georgia Co-Director Rebecca Brightwell.
Recipients of the award are selected by the AgrAbility in Georgia board of directors. The award was presented at the board meeting on August 24, 2017. See attached photo of Don McGough (on right) accepting the award from Dr. Glen Rains, Georgia co-director.
---
Two AgrAbility proposals for senior design projects in the University of Georgia College of Engineering were accepted for the 2017-18 academic year. The projects are: 1) Easy Hookup of PTO Shaft for Farmer with Physical Disabilities and 2) Emergency Exit for Tractors - Next Generation. Senior engineering students will study, design, and build prototypes to address these issues. Jimmy Hill with the Georgia project oversees the engineering students.
---
AgrAbility continues to work with Fort Valley State University (FVSU/1890) graduate students who are majoring in the rehabilitation counseling and case management program. This semester, Rosemary Antah, with FVSU, will be working with AgrAbility customers on their vocational needs. Paige Tidwell, with the Georgia project, oversees the internships for the rehabilitation counseling students.
Submitted by Rebecca Brightwell