September 2017
Indiana
As a guest of Indiana FFA, Indiana AgrAbility staffed a display in the FFA Pavilion at the Indiana State Fair August 4-20, 2017. The display included AgrAbility publications, a TV showing the NAP video, a John Deere tractor with a Life Essentials lift, an Action Track Stander power wheelchair, and a Bridging Horizons Community Service Contest display. Attendance at the fair topped 900,000 and many took advantage of the great weather. Many people stopped at the display and talked with staff about the publications and services available from AgrAbility.
---
Indiana AgrAbility also participated at the Indiana State Fair in the Purdue Extension/Horticulture building as a rotating display with Purdue Extension. This display provided an opportunity to be part of Purdue Extension at the Indiana State Fair and reach a different audience that may not go to the FFA Pavilion. The display included AgrAbility publications, beginning farmer/veteran farmer information, and an AgrAbility popup display.
---
Steve Swain, Indiana AgrAbility rural rehabilitation specialist, presented AgrAbility, farm, and agricultural accessibility to the North Montgomery High School ag mechanization class. The presentation included the Bridging Horizons Community Service Contest, AgrAbility resources, and farm accessibility products and modifications including case studies.
---
On August 7th, AgrAbility staff and four farmer veterans participated in a special showcasing of the Homegrown By Heroes/Indiana Grown farmers at the Indiana State Fair on Military Appreciation Day. Farmer veterans displayed their farm produce and some provided samples from their respective farms. Last February, Indiana Grown launched a joint label with the Farmer Veteran Coalition's Home Grown By Heroes label. The joint label allows consumers to know that the products they purchase were grown in Indiana and by a military veteran.
---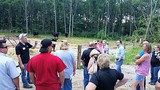 AgrAbility staff hosted a freezer beef farm tour and workshop on August 12th for military veterans as part of the Indiana Beginning Farmer/Rancher Development Program. Twenty-six were in attendance. Purdue staff provided presentations on beef herd management and farm marketing in the morning, and after lunch, participants took a tour of Crowl Cattle Farm and had time to network with the presenters, staff, and the owners of the farm, Cadel Crowl (a veteran) and Rebecca Crowl.
Submitted by Cindy Chastain and Katherine Prasuhn