September 2017
Nebraska
The Nebraska AgrAbility staff met at the Raising Nebraska building on theState Fairgrounds in Grand Island. Raising Nebraska is designed to let people see agriculture from virtually every angle - from water conservation to soil health, from animal well-being to food safety,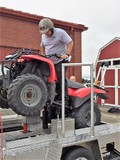 from invention to innovation, from economic impact to global hunger.You can check out this tremendous interactive building at raisingnebraska.unl.edu.
Before starting the meeting, many of the staff were trained in the use of an ATV Aware simulator that will be used in Nebraska at various locations and events across the state.
---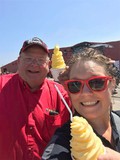 Rod Peterson and Emily Freudenburg presented information about AgrAbility during the Nebraska State Fair in the Raising Nebraska building. They spoke about the project and how different types of assistive technology can help everyone, even those with disabilities. Check out their promotional video by clicking here.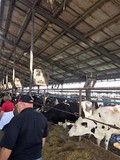 ---
Rod, Nancy, and Emily attended a SARE tour to learn about different types of agriculture ventures in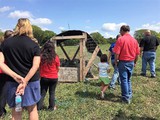 Southeast Nebraska. The group toured a family owned dairy (www.prairielanddairy.com/prairieland-gold), acommunity supported agriculture farm (www.localharvest.org/olive-creek-farm-M63013)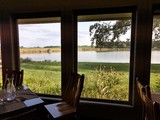 and a restaurant that grows their own produce to serve in their restaurant (prairieplaterestaurant.com).
---
The Nebraska AgrAbility Facebook page went over 400 likes during August. NE AgrAbility has been working on this page for the last 18 months or so, with Emily taking the lead and posting almost every day. When staff started promoting the Facebook page, they only had around 100.
Submitted by Nancy Frecks
---
Nebraska AgrAbility is seeing an influx of veteran farmers that need assistance so that they can continue in this field. For example, Katie, a veteran who served tours in Iraq, is now successfully growing small fruits and veggies for production. Her goal is to raise these products to be able to use the Farm to Fork label for feeding kids at schools healthier food options. Katie came to Nebraska AgrAbility having severe carpal tunnel problems and suffering from some PTSD. With the help of AgrAbility and Nebraska Vocational Rehabilitation she got some equipment that she needed to be able to continue to produce her fruits and vegetables. Without this assistance, Katie stated that she might have had to give up on her dream of small farming.
The items Katie got on her plan were a Polaris Ranger, a Bobcat MT85 with bucket and tiller attachment, a pull-type electric start mower, and an impact wrench. These items have lessened Katie's load on her small farm. A part of Katie's participation in the plan included purchasing anti-vibration gloves.
Here is the information that her VR counselor was given when the case was closed:
The Polaris Ranger has proved to be one of Katie's best accommodations. With this item, she has been able to haul items back and forth, haul watering equipment up and down the road, move plants to new locations, and pull larger equipment down the road. This piece of equipment will most likely be the most used piece of equipment on Katie's farm. She has also learned from the dealership how to service this item.

The Bobcat MT85 with tiller and bucket has been of great use this spring to prepare everything for planting. Katie is able to utilize the Bobcat for 2-3 hours at a time before she feels a flare-up in her carpel tunnel. With the Bobcat, she has been able to move large amounts of dirt and slowly clean out her small pond. When we first visited Katie, she had about 3-4 rows for her garden, and now with the use of this machine and tiller she has produced almost 25 rows to grow items in. She is going to work with Bobcat to maintain this piece of equipment and hopefully have them train her in some aspects of this as well.

The pull-type electric start mower is put together and waiting for the battery to be installed. She has already pulled it behind the Polaris ranger and said it pulls very nicely. She had tested starting it at the Tractor Supply Company and said that it was very easy. She looks forward to utilizing this. She also learned how to maintain this item.

The impact wrench came in very handy when putting together the pull-type electric mower. She said that the vibration on her hands would be bad if she was using it for long periods of time, but usually she only uses it for twenty-minute increments. I did suggest to her that she buy a pair of anti-vibration gloves that can be found at Menard's or Home Depot.

In the past year, Katie has gained more confidence in her ability as a producer. She has become less stressed and her hives have not happened as frequently as in the past. She continues to add on to her operation. She is currently in the process of putting up a 36x54 pole shed that will have overhead doors and walk-in doors. This shed will be utilized for storage of her equipment and as a place to begin growing plants in a heated environment during the winter. She plans to use a drip system to water 40 vertical planters that will grow strawberries and broccolini (a cross of broccoli and asparagus). She will have LED lighting for the plants to get sunlight, and the dirt floor will give her space to place citrus plants for production.

Katie's brother has recently joined her operation. He is also a veteran. Katie has seen a large change in him during the past month, showing that he has overcome some problem areas. This is a someday goal of Katie's, to be able to purchase some more ground to have a veteran farmer educational facility where they can come and learn to grow small fruits and vegetables and to gain that feeling of purpose.

Katie is working on creating a plan for the 10-15 acres of land that she has not utilized recently. She wants to possibly produce hemp on this ground. There is a chemical company in Colorado working on a new plant that would have less amounts of TCH. She has found a farmer in her area that would be willing to plant and cut it for her, only then having her need to buy a baler to bale the hemp. There is also a farmer that is south of Lincoln that would possibly purchase the hemp as he is creating items from the hemp.

I want to again thank you for recommending all this equipment for Katie. She is now overcoming so many limitations, and gets to do what she loves.

Emily Freudenburg
Nebraska AgrAbility

Submitted by Emily Freudenburg