September 2017
Ohio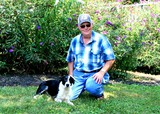 Ohio AgrAbility hosted a summer meeting and picnic August 10 at the Gwynne Conservation Area in London, Ohio. Farmer clients brought family, friends, and even a faithful dog (Sarah, Harry's Australian Shepherd). Everyone enjoyed the delicious picnic lunch and the informational meeting where staff talked about high-tech and low-tech options for increasing accessibility and managing work around the farm. Farmers shared their own solutions for addressing mobility issues and ways they have changed work habits to increase productivity and decrease impact of disability.

Staff shared updates on the AgrAbility Project, including previews of OAP workshops at the upcoming Farm Science Review, and the current funding status of the AgrAbility programs. Farmers and family members were asked to record video testimonials to demonstrate the positive impact AgrAbility has made to their lives and livelihoods. Although some of the clients are camera shy, when they heard that their stories can help Ohio AgrAbility demonstrate how important AgrAbility is to them and their continuing ability to farm, they agreed to record their stories. Several farmers invited staff to come to their farms to record them using the modified and accessible equipment that Ohio AgrAbility has helped them to acquire.
---
The 2017 State of Ohio Rural Health Conference was a great opportunity for Ohio AgrAbility staff to share information about Ohio AgrAbility, talk to rural health professionals, and learn about state and regional initiatives and priorities for rural communities. Representatives from two different Ohio medical colleges were especially interested in AgrAbility, and asked about information and training opportunities for students in their rural health programs, which seek to place doctors in underserved rural areas. They were pleased to learn that AgrAbility not only helps farmers and their families post-injury, but also offers farmers and stakeholders training and information about preventing injuries, and advocates for good agricultural safety and health practices.
Submitted by Laura Akgerman