September 2017
Pennsylvania
AgrAbility PA and the Pennsylvania Office of Rural Health hosted activities in the Rural Health and Safety tent at Penn State's 2017 Ag Progress Days. Visitors had the opportunity to visit with AgrAbility staff and try out assistive technology such as Robo Handles, Gripeeze gloves, one-hand nail-starting hammers, pliers with a magnifier, and more!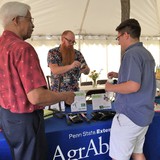 Many visitors enjoyed measuring their grip strength with a hand dynamometer and learning about assistive technology to help those with limited grip strength.
Other activities included stroke assessments, blood pressure and vision screenings, information on dental health, the Worker Protection Standard, and youth Ag safety. (Pictured: Project Director Dr. Connie Baggett visits with occupational therapist Dwight Heller and Aaron Morris, a visitor at the show.) Read more here.

During Ag Progress Days, AgrAbility staff hosted their annual snack & chat for current and potential clients. Snacks were donated by a local snack company, Ira Middleswarth & Son, Inc. Drinks, and a place to rest in the shade was also provided. This was an exciting time as staff was able to catch up with clients and hear about their success on the farm. Staff was also able to meet with new clients and begin establishing relationships.
---
AgrAbility staff met with a new company, Strong Arm Lift, to discuss how their new product could assist farmers with disabilities. This company is based on a Pennsylvania farm and makes a device that is designed to bolt onto a utility vehicle and assist with loading heavy objects. Multiple attachments enable one to pick up rocks and perform a variety of other tasks.
Staff had the opportunity to brainstorm with the company about how this device could be fitted with numerous attachments that would further benefit farmers with disabilities.

Learn more about this device at http://strongarmlift.com/
Submitted by Abbie Spackman