October 2017
Georgia
AgrAbility in Georgia is co-sponsoring a series of workshops to train veterans on produce food safety. The half-day workshops are being offered in West Point, Tifton, and Watkinsville, Georgia, during the month of October. More details are on the www.farmagain.com website.
---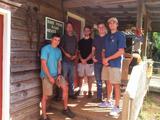 AgrAbility staff and UGA senior engineering students working on their senior design project met with Georgia hog/sheep farmer and AgrAbility client Danny Sims on Friday September 24th. Danny was the inspiration for their senior design project - "Easy Hookup of a PTO Shaft." The students met with Danny at his farm/market to see how he performs various tasks around his farm,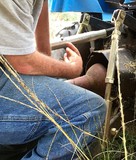 including hitching different PTO implements to his tractors. The engineering students discussed possible solutions with Danny and how they could design an easy hookup of a PTO shaft that would accommodate his needs. They are also evaluating how they could design the easy hookup PTO shaft using universal design principles. This would allow anyone to use the easy hookup design. See attached photos. Pictured with Danny Simms (second from the left) are the engineering students; Broc DuCharme, James Wilson, Kyle Haney, and Eli Belflower. Second photo is of Danny Simms hooking up a PTO implement to his tractor.
---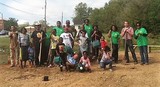 AgrAbility staff and other University of Georgia staff participated in a volunteer workday Saturday, September 30, 2017, in LaGrange, GA. They helped to construct a garden that is accessible for all citizens in the community. The volunteers constructed accessible raised beds and benches, and planted a variety of fall vegetables and flowers. See attached photo of staff and volunteers.
Submitted by Rebecca Brightwell