October 2017
Michigan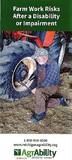 Michigan Farm Bureau and Michigan AgrAbility developed a Farm Work Risks After a Disability or Impairment brochure to distribute to all prospective clients, at Michigan AgrAbility presentations and display booths, and in other settings such as Michigan State University Extension, Michigan Farm Bureau offices, some rural health care settings, etc.
---
The Alpha Gamma Rho fraternity at Michigan State University is such an awesome supporter of Michigan AgrAbility. The fraternity recently hosted a pig roast with proceeds supporting Michigan AgrAbility and, in February 2018, the fraternity is hosting a beef cattle preview show. The Beef Cattle Preview is on the MSU campus February 9-11, 2018. The 2017 Beef Cattle Preview raised $15,000 for Michigan AgrAbility! Michigan AgrAbility is so grateful for all the work and support the Alpha Gamma Rho Fraternity gives so staff can support the hardworking farmers and families of Michigan!
---
The National Center for Farmworker Health hosted the Midwest Stream Forum for Agricultural Worker Health in Grand Rapids September 18-20. Michigan AgrAbility, in conjunction with the Michigan Department of Health and Human Services had a booth at the event, highlighting several aspects regarding agricultural worker health, including AgrAbility services, pesticide exposure, agricultural injury reporting and data gathering statistics.
---
Recognizing where injury can occur and preventing it from happening is one of the primary tenants of farm safety. Putting farm safety into practice is the goal of National Farm Safety Week. To support the mission of National Farm Safety Week, Michigan AgrAbility posted the powerful 2017 Tribeca Film Festival Silo: Edge of the Real World film highlighting the human aspect of silo safety.
Submitted by Deb Chester