October 2017
Missouri
Karen Funkenbusch was awarded a United States Department of Agriculture Office of Advocacy and Outreach (OAO) one-year grant award. The Missouri Outreach and Assistance for Socially Disadvantaged and Veteran Farmers project will assist enterprises in the farming and agribusiness sector. Over a 12-month period under her leadership, Extension faculty will conduct eight workshops: seven English and one Hmong on "Understanding the ABCs of USDA Programs." They will also use the MU Extension-developed "Grow Your Farm" (GYF) course designed for beginning farmers. A weeklong "Agroforestry Academy" will be offered to African, Hmong, Latino, women, and veteran populations, to address ongoing challenges faced by beginning farmers including Missouri AgrAbility clients.
---
Joni and Travis Harper, both University of Missouri Extension faculty, and Karen Funkenbusch, OAO and AgrAbility director, hosted a one-day "Understanding the Alphabet Soup of USDA Programs" workshop in Versailles, Missouri. During the morning session, AgrAbility clients learned first-hard about beginning farming and ranching programs offered by the USDA Farm Service Agency, Farm Loan, Rural Development, Natural Resource Conservation Service, Agricultural Marketing Service, and Soil and Water Conservation. In the afternoon, Joni and Travis shared information about how to use the University of Missouri as a resource in owning and operating farms and ranches while increasing their participation in USDA programs. Karen talked about resource tools and technical one-on-one assistance offered by USDA NIFA Missouri AgrAbility and USDA OAO programs for socially disadvantaged, veteran, and women farmers and ranchers.
Submitted by Karen Funkenbusch
---
University of Missouri-Kansas City School of Pharmacy, a Missouri AgrAbility collaborator, included two student pharmacists in AgrAbility client outreach activities throughout September. Doctoral pharmacy students Dion Tyler and Paige Stipanovich, along with Kelly Cochran, PharmD, BCPS, provided two Pharm to Farm on-site farmstead medication assessments. Two pharmacies were visited in coordination with farmstead visits and promotional materials for Missouri AgrAbility Project, Pharm to Farm, and AgriSafe webinar information for National Farm Safety & Health Week were distributed and discussed. Services provided during farmstead visits included free point-of-care health screenings, disease state education, AgriSafe Health Risk Assessments, and comprehensive medication reviews. Health screenings provided were valued at over $100 for each farm family. Farmers were advised on safe medication practices and provided with tips for falls prevention and prescription assistance application resources, and were advised on management of medication side effects to avoid injury. Copay cards for free trials of medication as well as reduced costs were provided at a value of $300 for one farmer.
---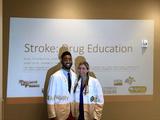 Two student pharmacists, Dion Tyler and Paige Stipanovich, from University of Missouri-Kansas City School of Pharmacy at MU, presented "Drug Education Following Stroke" to a stroke support group. Following a Pharm to Farm onsite farmstead medication assessment, the MAP client invited Dr. Cochran and students to present at the stroke support group. Attendees learned about the role of the pharmacist in helping to find affordable medications, the importance of medicines and lifestyle changes following a stroke, and ways to prevent side effects and get the most out of their medicines. Participants were provided with Pharm to Farm and AgrAbility Project brochures.
Submitted by Kelly Cochran