October 2017
North Carolina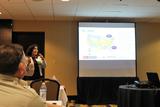 North Carolina AgrAbility presented the program in four sessions at the Minority Landowners Magazine 11th Anniversary Conference, "RESOURCES: Agencies, Organizations and Professionals Who Support Family Farms", Greensboro, NC, September 21-23, 2017. The conference was centered around the resources available to landowners. About 175 landowners attended from around the country. Landowners from Texas, South Carolina. Georgia, and North Carolina gathered together to share experiences and learn about institutions like Natural Resources Conservation Services, NC Forest Services, Farm Service Agency, Conservation Trust for NC, Socially Disadvantage Farmers and Ranchers Policy Research Center, Growing Opportunities for Small Scale Farmers, Farm Credit, The Gragg Law Firm, PLLC, and NC AgrAbility. The NCAP also staffed a booth with Cooperative Extension at NCA&T, grew the NC AgrAbility list serve, and had the opportunity to receive referrals to the program.
---
NC AgrAbility presented at the NC Assistive Technology Grant Advisory Council, Raleigh, NC, on September 15, 2017. Members of the Easterseals, NC 211, Vocational Rehabilitation Division of Services for the Blind, Vocational Rehabilitation Latino outreach, the NC Council on Developmental Disabilities, The Adaptables-Center for Independent Living, and others, had the opportunity to learn more about the AgrAbility program in North Carolina and exchange comments and suggestions.
---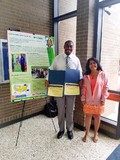 NC AgrAbility Grad Student Kristoff Minus was awarded with the Best Internship/Study Abroad at the Student Showcase of Excellence on September 6, 2017. Kristoff was among 82 students from the College of Agriculture and Environmental Science who presented posters describing their summer internship in agriculture's many and varied disciplines, including food and animal science, forestry, youth and child development, fashion, agribusiness, landscape architecture, natural resources, horticulture, and more.
---
NC AgrAbility hosted the first advisory board meeting at NCA&T on September 27, 2017. At the meeting, staff had the opportunity to share with representatives from institutions such as The Adaptables - CIL, Disability Partners - CIL, NC Department of Agriculture and Consumer Science, NC State University Agricultural Institute Veteran's Farm, NC Agromedicine Institute, Division of Vocational Rehabilitation Services, NC Assistive Technology Program, and NCA&T.
Staff Changes
North Carolina AgrAbility welcomes its new project director, Dr. Janine Parker. Dr. Parker is the agribusiness and marketing specialist at Cooperative Extension at NCA&T State University. She has spent the last decade working both domestically and internationally with farmers and farm laborers, helping them with access to resources, better business practices, and marketing strategies. She has a masters international degree in agricultural economics from NCA&T State University where she served as a sustainable marketing Peace Corps volunteer with coffee farmers in Guatemala. Dr. Parker has her Ph.D. from the University of Florida focusing on international extension systems in the Caribbean and Latin America, and has specialized in survey design and program evaluation.
---
North Carolina AgrAbility also welcomes Dr. Paula Faulkner as the co-PI. Dr. Faulkner is an associate professor in the Department of Agribusiness, Applied Economics and Agriscience Education at North Carolina A&T State University, and has been working with the AgrAbility project as a collaborator over the last two years. She has represented NC AgrAbility at the NTW for two years on the "Working with your 1890 Institution" panel.
Submitted by Beatriz (Betty) Rodriguez