October 2017
Ohio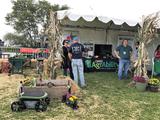 Ohio AgrAbility joined forces with neighboring SRAPs, West Virginia AgrAbility, and AgrAbility for Pennsylvanians, to offer outreach education and promote the national program mission at Farm Aid 2017. They were invited to participate in the Homegrown Village where food and farm organizations delivered demonstrations, exhibits, and education, that were chock-full of interactive hands-on experiences to bring agriculture to life.It was a beautiful day filled with sunshine where festivalgoers had a chance to interact with farmers and farm advocates to hear stories, learn new skills, discuss timely issues, glean knowledge about programs, and understand the symbiotic relationship everyone has with agriculture. As partners, the three state programs showcased tools to eliminate barriers and make farming more accessible. Festivalgoers were able to dig in the dirt, investigate accessibility tools added to a tractor, learn about program offerings, test products, and talk specifics with staff members. Farm Aid's activities, food, music, and community-building showcased the culture of agriculture for the duration of the day. It was a great pleasure for the three state AgrAbility projects to have the opportunity to be a part of an event that gives back and aims to be a strong voice together with farmers.
Submitted by Lisa Pfeifer, Educational Program Manager for Ohio AgrAbility
---
T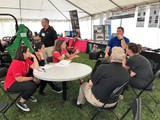 he Ohio AgrAbility Program exhibited at the 55th Farm Science Review September 19 - 21. The OAP exhibit area included information and resources from Ohio AgrAbility, National AgrAbility, Opportunities for Ohioan's with Disabilities (state VR) and several adaptive equipment vendors. Steve Swain represented National AgrAbility and Breaking New Ground/Indiana AgrAbility at the Farm Science Review, and never complained once about the rain and subsequent squishy ground inside the tent; OAP staff appreciated his expertise and interaction with their clients and visitors.
---
Rural rehabilitation coordinators Charlie Landis and Randy Joseph offered daily workshops on modifications for the barn, worksite, and equipment. Disability Services Coordinator Laura Akgerman held daily sessions for professionals interested in working with Ohio AgrAbility; attendees included an occupational therapist who has referred clients to OAP, staff from the Bureau of Worker's Compensation, and a supervisor and counselor from Opportunities for Ohioan's with Disabilities.
---
An OAP livestock producer spent several hours talking to an Engineering capstone student group about modifying a skid-loader to make it wheelchair accessible. His advice and insights were invaluable to the students, and it was a perfect example of how AgrAbility serves clients, values their expertise and experiences, and fosters collaboration between students/engineers and the end user/client.
---
Laura presented two sessions on gardening with arthritis at the Utzinger Garden gazebo, and a session on farming and gardening with arthritis at the Small Farm Center. Several of the attendees from these sessions came to the AgrAbility exhibit to see the adaptive equipment, and to learn more about Ohio AgrAbility's services and educational workshops and trainings.
---
In addition to the exhibit tent and workshops, Ohio AgrAbility hosted the Universal Design Garage (part of a larger UD house) and offered examples and information on using universal design in the workshop and farm. OAP also provided a mobility device & phone charging station at the exhibit, and sponsored an accessible bus to take FSR attendees from the main exhibit area to the farm fields.
Submitted by Laura Akgerman