October 2016
Tennessee
TNAP presented AgrAbility to central region agricultural and natural resources Extension agents and specialists. Several other ag groups gave updates at the meeting too, and one said, "Knew you helped folks with disabilities but didn't realize back injuries or arthritis qualified."
---
Dr. Deborah Reed presented her unique CDC-NIOSH research program that gets families talking about health and safety over a dinner theater. She is working on toolkits so counties and states can host their own farm health and safety theaters. Real threats and risks on the farm, secondary injuries, and empowering farmers to incorporate safety practices and prevention in the everyday work, are just a few topics in the play. It is a good community social event as well as a learning opportunity.
---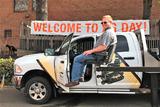 Thank you to Bill Begley for helping at the University of TN Institute of Agriculture Ag Day for Alumni. Life Essentials' lift display attracted many people and gave TNAP staff the opportunity to talk about AgrAbility. The staff promoted programs for farmers with disabilities and met several alumni from NC, NY, ID, FL, and GA, who wanted to learn more about AgrAbility.
---
Thank you to Derrick Sowell, horticultural therapist with UT Gardens Knoxville, for another amazing veterans' horticultural therapy workshop in Clarksville. Planning for more workshops in 2018. One participant said "We transplanted, learned about worms, fertilizers, plant diseases, and how planting heals our minds from the hurt we experience. Thank you AgrAbility for all you are doing for people with disabilities."
---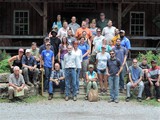 Congratulations to Finis Stribling, Tennessee State University, and the fourth graduating class from the Tennessee New Farmer Academy, our newest farmers.
Registration is open for 2018 classes. Click here for further information.
---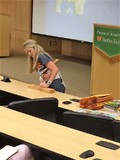 TNAP staff had the privilege to speak to 20 UT Memphis OT/PT students on the AgrAbility program. The students were not required to attend, so staff were very pleased with the 20 that attended. The students asked many questions and were very interested in the program. They are going to find an agriculture producer in the Shelby County area that needs assistance and work with the TNAP staff on the assessment. They would like to make this an ongoing program.
---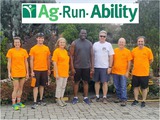 The annual TN AgRUNAbility 5k/2 mi WALK was held September 16-19 throughout Tennessee for UT TSU Extension staff. There were 44 registered for the 5K (29 completed) and 65 registered for the 2 mi WALK (28 completed). Thank you to the sponsors: Green Plains, Tennessee Farmers Cooperative; TN Healthy Lifestyles; UT TSU Extension, and TN AgrAbility.
Submitted by Tennessee AgrAbility